Going to toss in a few more things from other people before I go back to my own levels. I want to make sure there are still awesome pieces left for people to look forward to at the end. This one was done by ResidentoEvil and actually departs from the typical challenge of Seppukuties and replaces it with a choice: You can either complete the level without putting your Seppukuties in harms way, but without any chance to get the acorns, or get the acorns through sacrificing your Seppukuties lives. Neither choice will get you an A rank.
Politics - Avg Time: 10-20 seconds, Par: 1, Acorns: 11
Challenges - NARP(No A Rank Possible)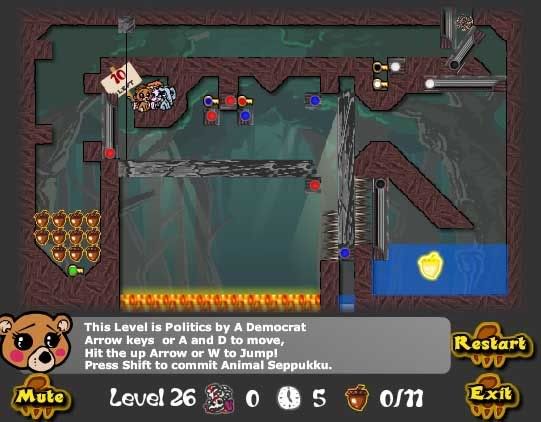 26B2A3B2ABD26AEB2A2B27AB2AB4A16BA5BCAB2AB3A2B3ABDABAED2ABABA 3B4AB2AB8AB2AB7AEBD6AB2AB6A2BD19AB2A2B27AB2AB3AB15AFBC6AB2AB 4AB14A3BC5AB2AB4AB14AJAEBC4AB2AB4AB14AJ2AEBC3AB2AB4MB12ALAJ3A EBC2AB2AB4MB12ALAJ8AB2ABC3MB12ALAB8GB2A2BCAFB12ABAB8GB2A6B12A BAB8GB2A6B12HBG10BAX2CEGADHAJB2AB10ACEJ2FADJA2BAF2B9A3C2DADHA 2B2ABDBAC6A3CECADHAJB2ABEBACBDC3ACDBEHACJA2B2ABF9ACEJDBADCABE BABG9ACEJFJAEHAD2BFBH9A3CFJADHABJ2ABJ2AC6ACDCEDACJADB2AC10ACE JEDADBA2B2ACB9ACEJEHADBADB2A2C9A3C2DAC2A2B2ABCBDB6ABEJHDACDAI DB2CD9ACBEHDAC2A2BAICE9ACDECHAEJACB2ACF9ACEJEFACJA2BAFCG9ACEJ GFACFAH2BFCI9ACEJHDACHAHFBFCJ9ACDBGDACFAIB2ADC9ACDBGDACHAHB2A CH9ACEJGDAEDAIF2AD10ACEJHBAC2ACD2ABI9ACEJ2FACJADBAFDB9AC X18012051033041XPolitics@A#Democrat
Oh, and remember people, the purpose of this thread is to try to give and get feedback. Post up your own Levels, I'll give you as much feedback as I can, and even if you aren't up to making your own level, you can still offer your feedback on what your favorite levels are, what parts are too hard, or what you think could be improved. The result will hopefully be that people we'll get the most awesome levels possible in this thread.
Currently wrapped up in: Half Life, Portal, and User Created Source Mods
Games I want: (Wii)Mario Kart, Okami, Bully, Conduit, No More Heroes 2 (GC) Eternal Darkness, Killer7, (PS2) Ico, God of War1&2, Legacy of Kain: SR2&Defiance


My Prediction: Wii will be achieve 48% market share by the end of 2008,

and will achieve 50% by the end of june of 09.

Prediction Failed.

<- Click to see more of her