I decided to post another level today to make up for the day or so that I've missed. This level wasn't designed by me though, this one was done by Nguard over at Newgrounds. So follow the link if you're interested in giving him feedback on it.
This level IS beatable.and can be beaten without any deaths.
LOL Underground - Avg Time: 15 seconds, Par: 1, Acorns: 0
Challenges - Obstacle Use, Blind Navigation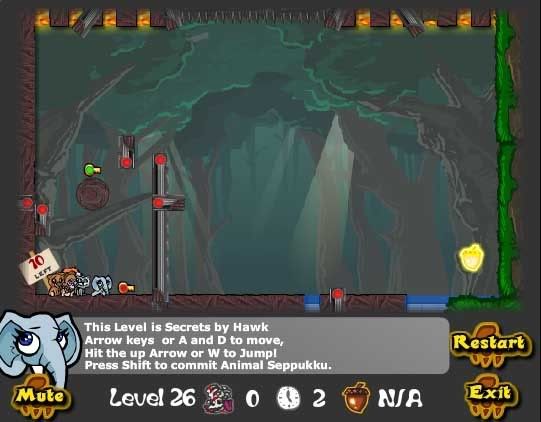 2BHBHBHBHB10KBHBHBHBHBH3AB31AB31AB31AB31AB31AB31AB31AB31AB31A B31AB31AB31AB31AB31AB31AB31A8BG8BG5B7GAXDB2DAFBA2B2A2B9ACEJG 2ABCABJA2BC9ACEJDGABCABJBJBD9A3CEIA2BA2J2AB10ACEJDHA2FA2DBA2C 9ACEJEGIGEAIJAFCD9ACDBCJADHACB2ACI9ACDBCHABJADB2ACF9ACEJDHA2E ABJ2ABE9ACDB2FAFDAIB2ABF9A2CBI2AGBA2J2ABG9ABCBICABCAJFBFBH9A 2CBICA2EAJFBFBI9A2CBGJABIABC2ABJ9ACEJGFABHA2FBIC10ACDB2FAFDAF B2ACB9ACEJD2ABHACFA2CE9ACEJC2AEBABCAFCG9ACEJCDAEDABC2ACH9ACEJ 2DADFABCBACJ9ACEJDIAEBABCBFDC9ACB2CJAE2A2CBAD10ABEJFIA2FABE2A DB9ACX08034056032041XSecrets@Hawk
Again people, it's not just me building levels, but unless we get more people building levels, it's not going to stay fun for as long as it could. Post up your own, if you need help or critiques, I'll be happy to help out.
Currently wrapped up in: Half Life, Portal, and User Created Source Mods
Games I want: (Wii)Mario Kart, Okami, Bully, Conduit, No More Heroes 2 (GC) Eternal Darkness, Killer7, (PS2) Ico, God of War1&2, Legacy of Kain: SR2&Defiance


My Prediction: Wii will be achieve 48% market share by the end of 2008,

and will achieve 50% by the end of june of 09.

Prediction Failed.

<- Click to see more of her