awesome, keep checking back here, cause I'll be putting up a new level every day for the next week or so. Either ones that I've made or notable ones that I've found. I've also learned how to hack the level code directly, and I'll give a quick tutorial on that as well.
Please let me know what you think of them. I'd really like to actually see this thing get a little traction.


This next level doesn't require as much skill as it does out of the box thinking. This was the first level I created with the intent of making the Seppuku mechanic essential to the game. Every level that came prepackaged in the game can typically be beaten while still having the only deaths as those caused by traps and hazards, rather than any of them resulting from an actual suicide.
Gauntlet 2 - Avg Time: 50 secs, Par: 2, Acorns: 21
Challenge - Hazard Pushing, Key Order, Corpse Use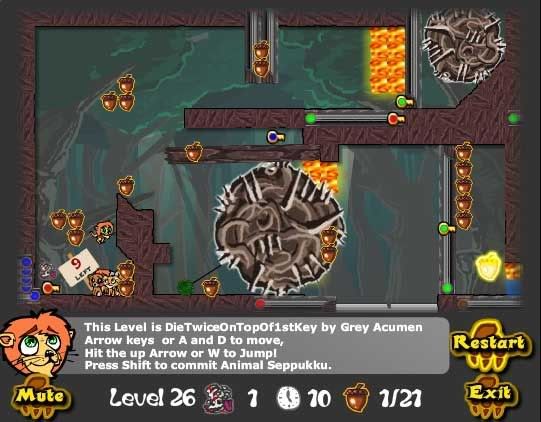 24B6AB2AB20A2H6AB2AB13AM6A2H6AB2AB13AM6A2H5AFB2AB5AM14A2H4AF 2B2AB4A2M19AF3B2AB9A11BCF7B2AB16A13B2AB9AM7AB7AM2AB2AB16A2H7A M2AB2AB5AM10A2H7AM2AB2AB5AC10AH8AM2AB2ABA2M2A2B9AH8AM2AB2ABA 2M2A2B9AHM10AB2AB5AE2B8AHM10AB2AB5AMB9AH11AH2AB5AMB3AM17AG2A 17B8A5BAXBEHDACBA2F2AB10ACEJGHACBACJ2A2B9ACDECDAFBA2B2ABC9ACD BGFADBA2B2ABD9ABDB2GACJACB2ABE9ABEJHBAEDACJBABF9ACBDE2AFBA3BA BGBHD6ACBEFBA2EA2IAIBH9A2CDEHADFAJ2BABI9ACDBFBA2DADB2AC10ACEJ BEAFCADJAFCB9ACEJBDAFBADJAFBJ9ACEJFDAFDABFBF2C9ACEJBDAF2ADJAF CD9ACEJBDAEJADJAFCE9ACEJBDAEIADJAFCF9ACEJG2ADBACGBFCG9ACEJIHA DBACJBFCH9ACDBHBA2EACB2ACI9ABEJF2A2CACF2ACJ9ACEJEIA2CABF2AD 10ACEJHJAFDAJHBFDB9ACX13034058033042XDieTwiceOnTopOf1stKey@Grey#Acumen
Currently wrapped up in: Half Life, Portal, and User Created Source Mods
Games I want: (Wii)Mario Kart, Okami, Bully, Conduit, No More Heroes 2 (GC) Eternal Darkness, Killer7, (PS2) Ico, God of War1&2, Legacy of Kain: SR2&Defiance


My Prediction: Wii will be achieve 48% market share by the end of 2008,

and will achieve 50% by the end of june of 09.

Prediction Failed.

<- Click to see more of her