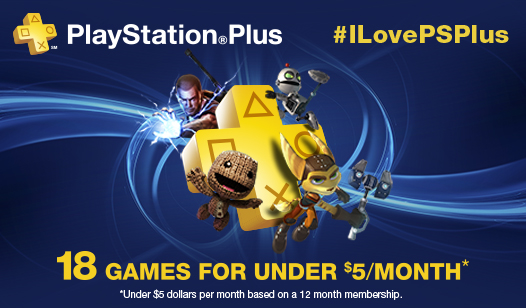 If you have been looking for a way to get in on the benefits of Playstation Plus, such as free games for the PS3 andPS Vita and online multiplayer for the upcoming PS4,Rakuten.com (formerly Buy.com) may have the offer for you this week.
The 12-month Playstation Plus card is on sale atRakuten.com for $39.99 with free shipping available. However, the online retailer is also running a $10 off $50 promo code ("AUTUMN10"). This means you can buy another item to reach the $50 mark or buy two PS Pluscards for a total of $69.98. That makes the purchase $34.99 a card which is $15 off the regular $49.99 price.
A Playstation Plus subscription will be required to play online multiplayer games on the Playstation 4 with the exception of free-to-play games and MMOs depending on the publisher. However, it grants access to the Instant Game Collection on the Playstation 3 and PS Vita which contains a rotating collection of free games for both systems. The subscription also gives access to 1GB of cloud storage for game saves, automatic system updates, invites to exclusive betas, early access to demos and full game trials.
You can follow Scott via Facebook, Twitter, RSS feed or email alerts for all the latest game news and deals as well as the weekly Furious Fourcast podcast/videocast. All game news on Examiner can be followed at the Game On Facebook page and Twitter feed.
http://www.examiner.com/article/year-of-playstation-plus-discounted-to-40-possibly-down-to-35
According to a new study; YouTube, Xbox.com, NeoGaf, N4G, VGChartz, IGN, GameSpot, GameStop, Facebook, Twitter, Amazon, All of Europe, FAMITSU, Japan, the rest of Asia and The whole of the Middle East among countless others are experiencing a Tsunami of people in love with Sony's gamings offerings.