EA Access XBO Exclusive for $5 a Month or $30 a Year

EA ANNOUNCES SUBSCRIPTION SERVICE ON XBOX ONE: EA ACCESS
BY COLIN MORIARTYToday, EA revealed EA Access, an Xbox One-exclusive subscription service that grants players access to EA's so-called Vault.
Subscribing to EA Access will cost $4.99 a month (or $29.99 a year), and since the program is technically in beta, only four games will initially be available: FIFA 14, Madden NFL 25, Peggle 2, and Battlefield 4, "with more titles being added soon."
Additionally, EA Access will also net subscribers 10 percent discounts on all EA digital content, which includes full games and DLC, as well as access to trials of new EA games nearly a week before they come out (with saves that copy over to the final game, should you choose to purchase it later). Games that will be eligible for early access and save copy-over are Madden NFL 15, NHL 15, FIFA 15, NBA Live 15, and Dragon Age: Inquisition.
Memberships can be purchased on Xbox Live, and will also be available at retail stores like GameStop and online destinations like Amazon. The subscription service will launch "soon," according to EA, and will be available in North America and Europe.
We'll have more on EA Access as soon as it launches.
TitanFall Becomes First Exclusive to Reach 2 Million Sold on XBO/PS4
Halo 2 Anniversary Cinematic Trailer
Halo Nightfall Trailer
Xbox One Has Many Unnannounced Games Coming from Japanese Devs

Microsoft is putting a lot of effort in order to sway the Xbox-resistant market of Japan in favor of its next-gen console, the Xbox One, and the company now boasts yet more unannounced games are coming to its platform.

The Redmond-based company is organizing hands-on events and promising new games at launch, in addition to the already solid line-up, some of which are especially tailored to the Japanese gamer preferences.

Platinum's Scalebound is one of the high profile Xbox One exclusives coming to the Land of the Rising Sun, but Microsoft has also announced a ton of smaller games coming to Japan this year.

ID@Xbox, the self-publishing program for indie developers, has already secured the presence of Keiji Inafune's Mega Man successor, the crowdfunded Mighty No. 9, and the initiative's director Chris Charla has confirmed that more games are on the way, but has said that he can't disclose anything yet, as it's up to the creators to do that when they're ready.

The appeal of ID@Xbox is not limited to Japan by any means, and Charla adds that the amazing games that indie devs have created and will continue to create are not limited by geography.

"If I showed you a map with all the locations we've had applications from, it's almost every country on Earth. Where great games are getting made is around the world. Japan, the US, China, Belgium - there are amazing developers all over the world. It's pretty cool to see all those games on the way for ID@Xbox," Charla told TotalXbox.
KI Evo Top 16
KI Evo Top 8
Killer Instinct Final 8 Live
http://www.killerinstinctcentral.com/evo-2014-killer-instinct-top-eight-live/
Evo 2014 Live
http://www.twitch.tv/srkevo2
Maya Revealed in Killer Instinct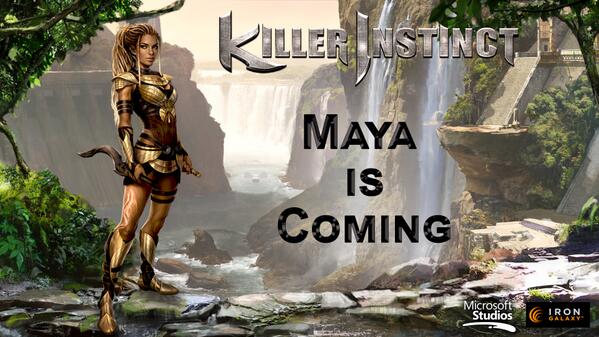 "Super Creator" to Work on Next Xbox Hardware
Microsoft just launched the Xbox One a few months ago, but the company is already looking at the future, as revealed by a new career opportunity ad posted by Redmond's company, seeking an Industrial Designer.
The Xbox Industrial Design studio is building a world class in house team. We love entertainment. We live for building transformative entertainment experiences that resonate with consumers. We are looking for passionate designers who want to help us create next generation entertainment hardware for Microsoft.
Primary Responsibilities
This is a design position within the Xbox industrial design studio. You will be joining a team that drives vision and product development for Xbox hardware programs. The right candidate will be a "hands on" individual contributor that will bring thought leadership, inspirational creative output, and passion to the Xbox entertainment space. In essence, this position requires nothing less than a "super creator".
As an industrial designer you will collaborate with design team and bring inventive ideas which will have large impact across the Xbox Entertainment Business.
We expect a spontaneous and innovative creative process that takes advantage of consumer insight harvesting, inspiration way-finding, 3d sketching, prototyping, thoughtful consideration of business needs, and understanding of technical considerations. Above all the candidate should have a portfolio that demonstrates the ability to design soulful product experiences that delight consumers.
The ad also lists "intrinsic passion for seamless hardware/software experiences" and "proven track record delivering award winning design" as requirements.
We shouldn't really be surprised about Microsoft already starting to plan for the next generation. Hardware designers are never really idle, and at least preliminary research normally starts as soon as the previous generation of hardware is shipped; often ever earlier than that. You can pretty much bet your monthly wage that Sony and Nintendo are doing the same as I'm writing.
And before someone reaches that conclusion, this doesn't in any way mean that Microsoft is planning to replace the Xbox One any time soon.
In addition to that, a second ad, seeking a Senior Software Development Engineer, clearly identifies the aim to improve the current game development tools used by first and third parties to create their titles on Xbox platforms.
The Xbox Platform Developer Experience team is hiring! We own the core development tools for the Xbox console platform, and we serve as a driving advocate for the end-to-end developer customer experience across the program. We are looking for an exceptional SDE to help us take game development tools to the next level.
Game developers, from AAA studios to Indie shops, have unique and exacting needs. Just think about the factors involved: Game titles are only growing in cost and complexity with each new generation. These days the projects will involve scores of engineers and hundreds of artists. They have budgets and production values that rival Hollywood blockbusters. They have 10's of gigabytes of content, code tuned to get the utmost from our platform, and holiday release dates that won't move.
The Xbox ecosystem only thrives if these partners succeed. Our goal is to help them make better games, faster.
Of course, career opportunities are just the tip of the iceberg, and they don't equate to official announcements, so we might want to wait for clearer signals to start talking too loudly about the Xbox Two. As a matter of fact in this case "next generation" might even mean a future redesign of the Xbox One.
Yet, this is a clear indication that Microsoft's Xbox division is looking towards the future and getting ready for what will come next.
Source:http://www.dualshockers.com/2014/07/10/microsoft-already-hiring-to-develop-the-next-xbox-aims-to-improve-game-development-tools/
Project Spark now has a release date: while the game is currently in open beta on Xbox One and Windows 8.1, aspiring game developers can get their hands on the final version of Project Spark beginning on October 7.
At that time, we'll also be making an Xbox One disc edition of Project Spark available at retail for $39.99 USD. The "Project Spark Starter Pack" is loaded with great content, including starter packs filled with sounds, effects, animations, and props, plus advanced creator features, offline content, and experience boosts which allow players to unlock new content that much faster.
For those of you who prefer digital download, all the content included in the disc version will be available digitally for Xbox One and Windows 8.1 on launch day.
Of course, everyone will be able to experience the creations of the over 1 million beta creators who have left their mark on the world of Project Spark, and earn Achievements while they do so. In the meantime, the beta is still ongoing, Xbox One owners can download it here, Windows 8.1 users click here.
Nice!
The retail package will deliver an incredible collection of premium content for $39.99, including the first sci-fi pack "Galaxies: First Contact," the warrior champion Sir Haakon "Hawk" the Knight, "Champions Quest: Void Storm," the first episode of an epic campaign adventure, and more. The "Project Spark Starter Pack" will provide immediate access to some of the best paid content, features and add-ons in a single package. All of the content included in the disc version will also be available digitally for Xbox One and Windows 8.1 on launch day.
Gearbox announces Battleborn
Halo at RTX
Cole Train Returning in the New Gears
"@MistaPeerez: @lesterspeight have you gotten a call about a new gears? You have to reprise your role! #whoobaby" "Yup!"
Rate the Game Trailer from E3 Results
| | |
| --- | --- |
| Title | Score |
| Call of Duty Advanced Warfare | 7.0 |
| Forza Horizon 2 | 7.4 |
| Evolve | 7.1 |
| Assassin's Creed Unity | |
| Dragon Age Inquisition | |
| Dance Central | |
| Sunset Overdrive | 7.6 |
| Fable Legends | 7.4 |
| Super Ultra Dead Rising 3 | |
| Project Spark/Conker | 5.3 |
| Ori and The Blind Forest | 8.6 |
| Halo Masterchief Collection | 8.9 |
| Inside | |
| Rise of The Tomb Raider | |
| Phantom Dust | 8.5 |
| Scalebound | 7.7 |
| Crackdown 3 | |
| Entwined | |
| Bloodborne | 8.5 |
| LittleBigPlanet 3 | 7.5 |
| Dead Island 2 | |
| Abzu | 6.0 |
| Magicka 2 | 5.7 |
| Let it Die | |
| Grim Fandango | |
| Grand Theft Auto V | |
| Uncharted 4 | 7.1 |
| Far Cry 4 | 8.8 |
| No Man's Sky | 8.5 |
| The Order | 5.0 |
| The Last of Us PS4 | |
| Metal Gear Solid 5 | 7.0 |
| Destiny | 7.1 |
| Batman: Arkham Knight | |
| Amiibo | |
| Mario Party 10 | 6.4 |
| Kirby and The Rainbow Curse | 5.5 |
| Yoshi's Wooly World | 7.0 |
| Captain Toad | 5.9 |
| Zelda | 8.6 |
| Pokemon Ruby/Saphire | 6.9 |
| Bayonetta 2 | 6.9 |
| Xenoblade Chronicles | 6.8 |
| Mario Maker | |
| Splatoon | 7.1 |
| Star Fox U | |
Top 10 Scored Trailers
1. Halo Masterchief Collection - 8.9

2. Far Cry 4 - 8.8

3. Ori and the Blind Forest & Zelda U - 8.6

4. Phantom Dust, Bloodborne, and No Man's Sky - 8.5

6. Scalebound - 7.7

7. Sunset Overdrive - 7.6

8. LittleBigPlanet 3 - 7.5

9. Forza Horizon 2 & Fable Legends - 7.4

10. Splatoon, Destiny, Uncharted 4, and Evolve

Sunset Overdrive Multiplayer Footage
Neverwinter coming to Xbox One later this year
Family Sharing Still on The Roadmap
When the Xbox One was first introduced, the Family Sharing feature was one of the very positive ideas that many regret not having made it to the released console, but Xbox Division head Phil Spencer promises that it's still on the roadmap, alongside others like digital pre-load.
We looked at the digital features that we talked about last year, and yeah, as a gamer there are a lot of those features that really resonated. They were smart features for people who have a lot of games and maybe play on a couple consoles and have a bunch of people in the house and want to share with friends. As I look at our monthly update roadmaps and other things, those kind of features are in our roadmap.
Spencer also explained that while the features are still being worked on, there are objective challenges that need to be overcome before they can see the light.
There's a little bit of a challenge that you have DRM on the disk and how does that game play… We got hung up last year on kinda the enabling features, around when it has to connect to the internet and all of that, when in the end the feature that we really cared about, that people are like "I've got this collection of content that I can do family sharing, I can share with my friends…" There are a bunch of things we have ideas about. I haven't given up on those ideas. There is some complexity now that you've got disks around that, you have DRM that you have to figure out, but it's definitely part of our map with the overall product.
During the same podcast it was suggested that it could be done only with digital games, but Spencer mentioned that it wouldn't be fair to those that bought the disk without knowing they wouldn't benefit from the feature in the future. That's why he want to be sure that the feature is done the right way. He also added that Microsoft is still looking at digital distribution improvements like pre-load. They just want to do it "at the right time and especially in the right way."
If Family Sharing was one of your favorite dishes in the original Xbox One menu, there's still hope. We'll just have to wait and see if Spencer and his team will manage to overcome the DRM challenges that are holding the feature back.
http://www.dualshockers.com/2014/06/24/phil-spencer-promises-xbox-one-family-sharing-is-still-on-the-roadmap-explains-the-challenges/
Interview on Phantom Dust