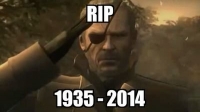 25,456
L7: Hunter
(9,544 until level 8)
platformmaster918
A

22 year old male gamer

United States

Joined on

October 12th 2012

, last online

6 hours ago

.
Profile Views: 14,280
Forum posts:

5,151 times

which averages

7 posts per day
Watch Your Back!
Received 10,000 profile views.
First Rung Of The Ladder
Earned 10,000 gamrPoints
One Small 'Splosion
Author of 100 forum threads.
Making Friends
10 friends on gamrConnect.
Littlest Genocide
1,000 posts on the gamrConnect forums.
1st Birthday
Has been a VGChartz member for over 1 year.
Trust Me, It'll Have Legs
100 replies made to user's most popular thread.
Favourite Games
This list only shows a selection of games from this user's favourite games.
View all games
Biography
Occupation: Faceless Man
Education: ?
University: ?
Height: 0'0
Eye colour: Other
Hair colour: Other
Favourite Music: The flow of blood
Favourite Films: Death be Told
The Death Collector
Scared to Death
Murder by Death
Death to Smoochy
Death Wish
Death Dreams
Favourite Books: Must a user really ask?
Favourite Food: Whatever a man needs
Hobbies: It is better to not know