Barozi said:
Lot of Corona talk in here. Moving to a different topic:

Amsterdam edges ahead of London as Europe's top share trading hub

Amsterdam edged ahead of London to become Europe's biggest share trading centre in January, benefiting from Brexit forcing European Union investors to use platforms inside the bloc.
Exchanges in the Dutch capital traded 9.2 billion euros ($11.15 billion) a day in January, more than London's 8.6 billion euros, according to figures from Cboe Europe exchange, which operates in both cities.
This compares with an average of 17.5 billion euros traded daily in London during 2020, when Frankfurt was second with 5.9 billion euros a day, and Amsterdam sixth at 2.6 billion daily, Cboe said.

https://www.reuters.com/article/us-britain-eu-markets/amsterdam-surpasses-london-as-europes-top-share-trading-hub-ft-idUSKBN2AB0I8?il=0

Wasn't mentioned in the article but looked it up and previous 2nd place Frankfurt increased from 5.9bn in 2020 to 6.7bn in January 2021.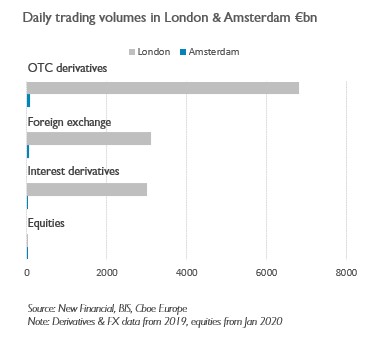 There's lot of excitement, anger and surprise at the news that Amsterdam has overtaken London as the biggest centre for equities trading in Europe. Here's a little bit of perspective: 1/ https://t.co/IDBZwbCxYc

— William Wright (@Williamw1) February 11, 2021
Last edited by Pyro as Bill - on 11 February 2021