Next grand prix starting on friday!!



The world may be coming to ruins Bandicoots, but the race is still on! The Rustland Grand Prix takes off in Crash Team Racing Nitro-Fueled and features new customization items, a new track – Megamix Mania, and a new game mode -- the Golden Wumpa Hunt. This new Grand Prix starts tomorrow, January 16, at 7:00AM PST (3:00PM UTC) - - as a reminder this content is available for every player who has purchased the game to unlock at no additional cost. All players should have to do is download the update tomorrow and you're ready to roll!
Before we dive into the details of this season, we wanted to take a step back and acknowledge all the fans of this game. We've had some amazing moments over the past couple of months - - such as winning best Sports/Racing game at The Game Awards and being named 2019's Best Racing Game by IGN (plus others). While we at Beenox are incredibly proud of this game, we absolutely know that its success wasn't possible without the intensely loyal and passionate fanbase. You all have given the life to this game which has sustained it from launch. We truly believe that Crash fans are some of the best fans in gaming!
With that, let's dive into the details of the Rustland Grand Prix!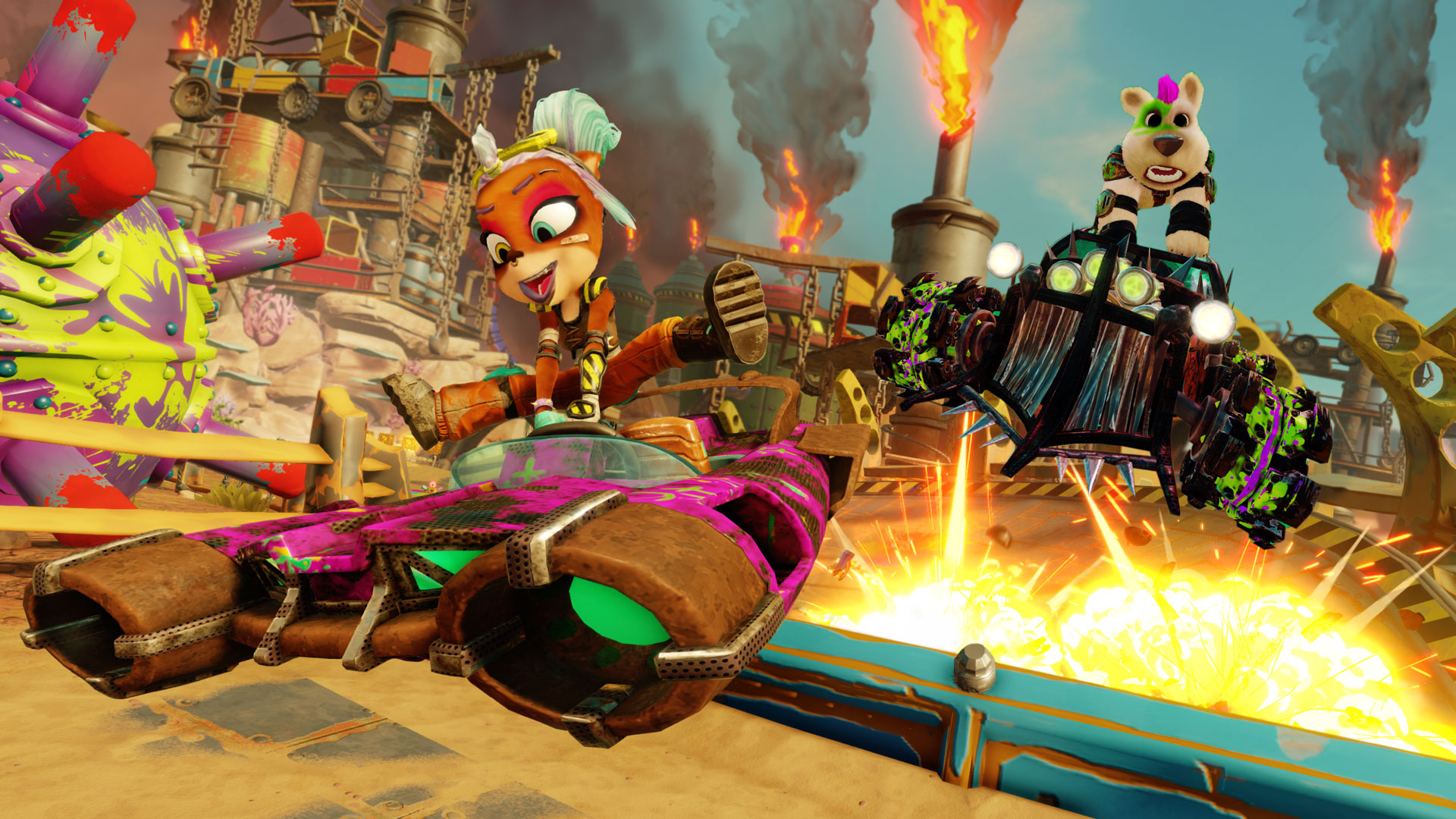 Mix it Up
The Megamix Mania course is three laps of survival on a dusty canyon near a factory hideout in the desert. Graffiti, chains, and flames accentuate this end of the world-themed track, so keep your focus on the road and surviving the atmosphere to see if you can grab victory and race another day.
You'll race through outdoor canyons and the interiors of this track while having plenty of jumps routes and boosts to keep things fast-paced. Plus, be on the lookout for several shortcuts to stay ahead of the competition! If you think you've got what it takes to outlast the apocalypse queue up and race on the Megamix Mania track.
Let's Go Hunting
A new game feature is available starting on January 16 – the Golden Wumpa Hunt. Ready up on any course, then take off and try to catch the Golden Wumpa Fruit. The fruit will be hiding in glowing crates. Follow the glow and smash through the crates to collect the Golden Wumpa Fruit. You'll be rewarded with a stash of Wumpa Coins for your efforts; plus there are several Grand Prix challenges tied to capturing these Golden Wumpas.
If you enjoyed the Ghost Hunt during the Spooky Grand Prix, the Golden Wumpa Hunt just might scratch that itch.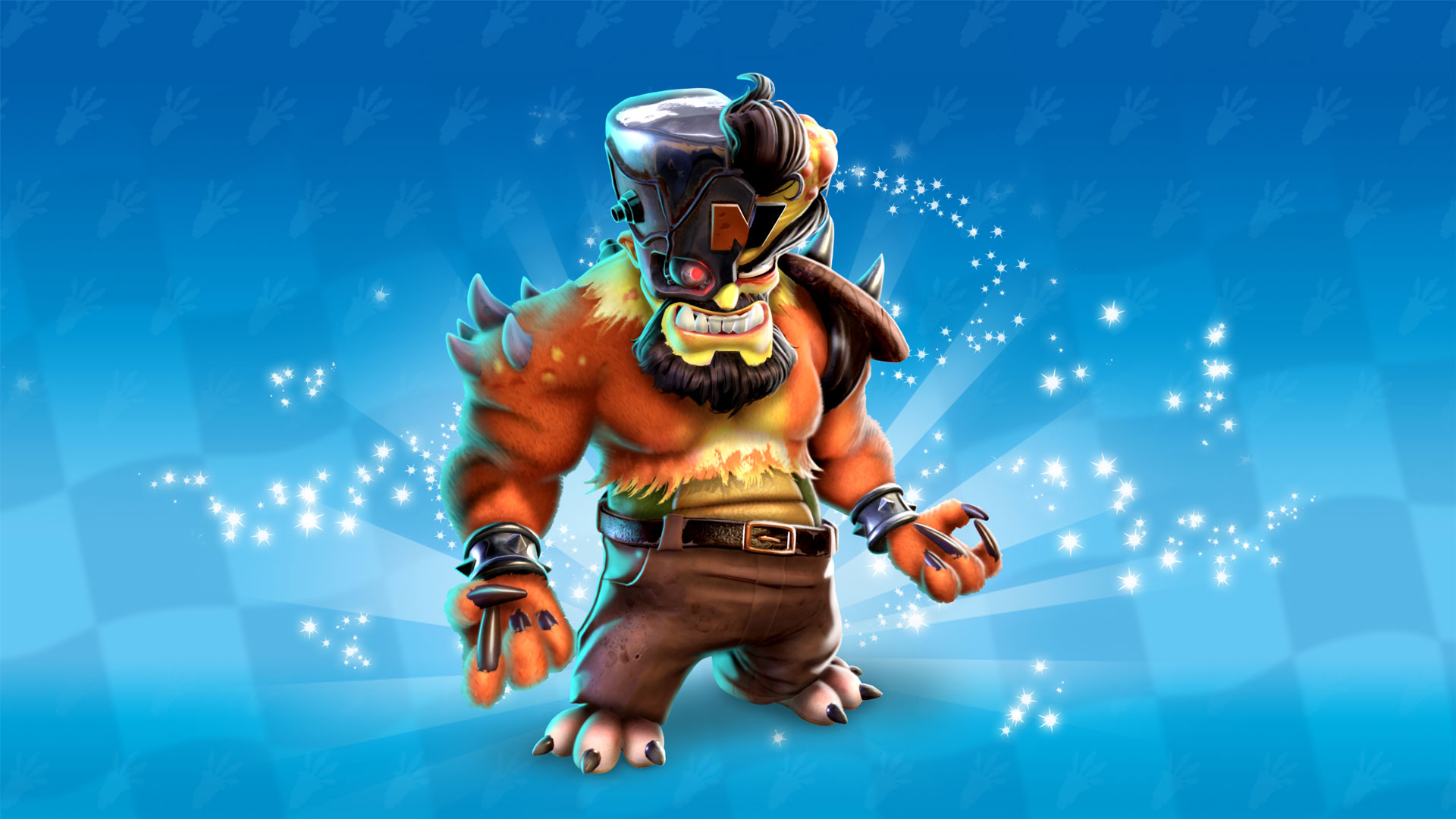 A Combination Character
Have a favorite Racer in Crash Team Racing Nitro-Fueled? Or sometimes is it hard to pick just one?
The newest racer, Megamix, is a terrifying mash-up of Neo Cortex, N. Gin, Dingodile, and Tiny Tiger. No need to choose between the four, instead choose to shock other racers as you drive by as Megamix. Crash fans may remember him from Crash Bandicoot™: The Huge Adventure. In this Grand Prix he doesn't just hit the track, but also represents something momentous - - Megamix is the 50THPLAYABLE CHARACTER in Crash Team Racing Nitro-Fueled! When we think of all the oddballs that have graced the track in this game, we think it's fitting that this dastardly mutant is the one who helps the game hit the half-hundred mark!
This season, beat those challenges and unlock Megamix in the Nitro Gauge.
Rustland Riders
Rule 101 of racing in the apocalypse: bring a ride that's ready for the end of the world. The Rustland Grand Prix introduces three new karts. Two of the karts can be earned in the Nitro Gauge and the other unlocked in the Pit Stop, and all of them are ready to take on the challenges of the wasteland.
Earn enough Nitro in the Grand Prix to unlock a kart made from salvaged parts that's still capable of getting into a few scraps with your fellow racers. Keep collecting that Nitro, and you'll earn the other bonus kart, which is powered by a rotating chamber of pure nitrous and sports some mean looking spikes!
As for the new kart in the Pit Stop, it may not have pointy spikes or a gnarly looking grill … But this kart can fly! Or hover, at least; with this cool retro-looking kart, you'll float like a butterfly, sting like a post-apocalytpic melee warrior.
Pit Stop Updates
Even as the world comes to ruin, the Pit Stop stands strong with new items for the Rustland Grand Prix. You'll find eight skins that channel an industrial punk-style, including an absolutely rockin' Tiny, a half-croc half-metal Dingodile, and a still-adorable robot Pura!
Also available are paint jobs, wheels, and stickers to make sure you have your ride ready for whatever tomorrow brings. Need your kart to have some grit and grime as you tear through Megamix Mania? Or perhaps you want to mark your territory with the new Tag wheels that leave a trail of paint in their wake?
The Pit Stop will have all that, and more, during the Grand Prix, including some returning items from the Spooky Grand Prix! As if Rustland needed to be a bit scarier, be on the lookout for some items that you may have missed from that spine-tingling event!
The Grand Prix Season
In addition to all the content that you can unlock either in the Nitro Gauge or Pit Stop this season, the Rustland Grand Prix features a few other items available.
By winning some races with them, players will be able to earn Rustland versions of our two favorite CTR TV newscasters, Chick n' Stew.
Plus, players will be able to rep their country pride with flag stickers for their karts! These stickers are unlocked automatically once the player has downloaded the game update for this Grand Prix.
Those who rank among the top Rustland Grand Prix racers in terms of victories or Nitro will also earn the Champion Kart (if you haven't earned it already), and the Champion Decal – a Neo Cortex-inspired graffiti.
So, what are you waiting for? Take on the world of Crash Team Racing Nitro-Fueledin the aftermath of the apocalypse in the Rustland Grand Prix, starting on January 16.
We'll see you on the track, Bandicoots.