OTBWY said:
Kerotan said: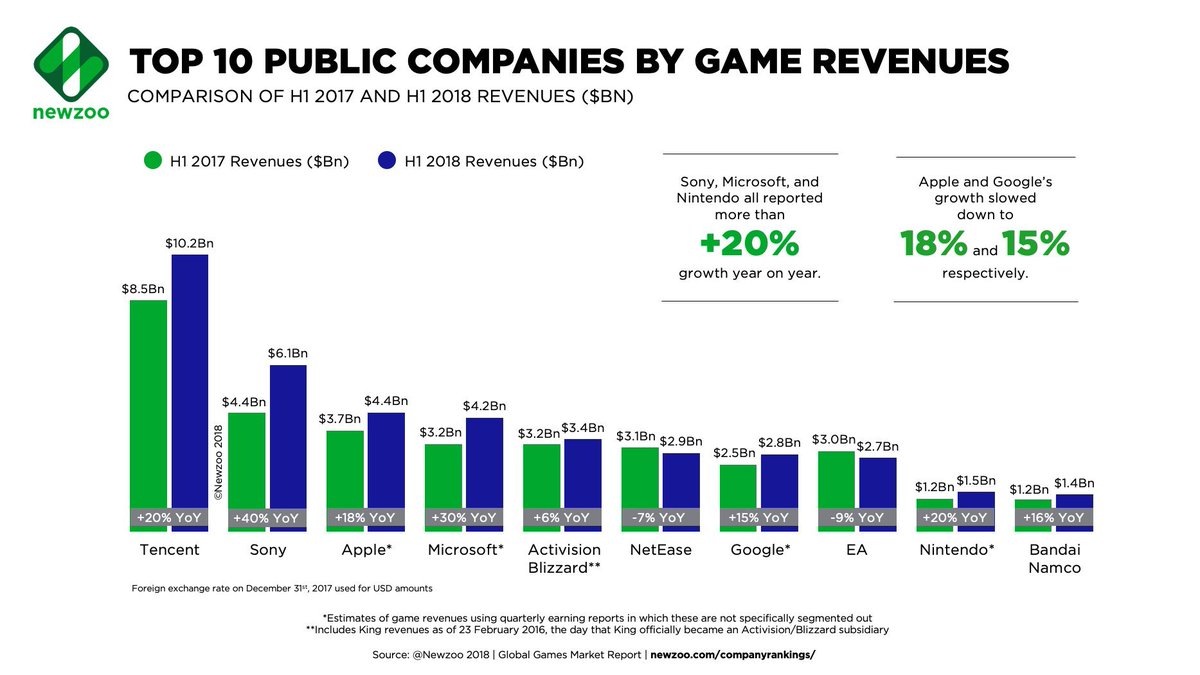 Here we have the revenue earned from gaming for the big players in the industry for H1 2018 compared to H1 2017 . From the big 3 console makers we can see that Sony had the largest YOY growth and their revenue is the highest.
1. Sony $6.1BN
2. Microsoft $4.2BN
3. Nintendo $1.5BN
This caught me by surprise as I didn't realize Sony and Microsoft were doing so much better then Nintendo. Do you think things will change over the next few years and the list will have a different order?
Sony




Microsoft




Nintendo




Just for some extra perspective.

Also, Nintendo just started offering online subs. We shall see.
Oh we'll see. I predict Sony profits will only go higher. Nintendo too but not nearly as high as Sony. BTW these are gaming revenues so maybe you should list the respective employees they have in that sector to make a point. Sony also have a huge amount of revenue not counted as gaming revenue from things like Fate/Grand order are not counted here and it's huge.
atoMsons said:
VAMatt said:
As I mentioned on a similar thread a few days ago - the biggest surprise to me here is that Tencent absolutely dwarfs everybody else. That just goes to show you the size of the Chinese market. And, that market is nowhere near maturity. (Yes, I know they sell outside of China as well. But, they're certainly not in the top few names if you take China revenues out.)
While it's a Chinese company, the money is not made over there. Riot Games, EPIC Games, and SUPERCELL are their big money making subsidiaries. Tencent Games itself is not that huge. You know that huge game called Fortnite is a Epic production.
Well they own 40% of Fortnite.