So I have never been a fan of IGN's reviewers (and since Mark Bozon has taken over most of the Wii reviews, it has gotten exponentially worse,) but a recent one left me scratching my head and wanting to strike an infant.
When perusing the review of "Alien Crush Returns" for Wii ware, a pinball title, the main graphical gripe was, and I quote "The game isn't pushing a full-on 16:9 mode..."
Now everyone who is older than 12 probably knows that pinball is inherantly vertical in nature. Why then would we need more horizontal resolution? It drives me insane:
"IGN's Wii Graphics Review process: "
1.) Start with 10.0
2.)Is the game on the Wii? Yes? subtract 1.5 points
3.)Does the game lack Widescreen? Yes? subtract 0.5 points
4.) Is the reviewer drunk? Of Course! Pick a random number and go with it.
Now normally, I would understand a gripe about lacking widescreen, but if anything, a larger width would DETRACT from the game's graphics. Nothing is worse than a pinball game with massive ammounts of vertical scrolling.
Feel Free to post any other inane review experiences you have had at IGN.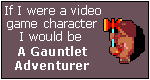 I am a Gauntlet Adventurer.

I strive to improve my living conditions by hoarding gold, food, and sometimes keys and potions. I love adventure, fighting, and particularly winning - especially when there's a prize at stake. I occasionally get lost inside buildings and can't find the exit. I need food badly. What Video Game Character Are You?
Mega Man 9 Challenges: 74%
| | | | | |
| --- | --- | --- | --- | --- |
| Waltz | Tango | Jitterbug | Bust a move | Headbanging |
| Bunny Hop | Mr. Trigger Happy | Double Trouble | Mr. Perfect | Invincible |
| Almost Invincible | No Coffee Break | Air Shoes | Mega Diet | Encore |
| Peacekeeper | Conservationist | Farewell To Arms | Gamer's Day | Daily Dose |
| Whomp Wiley! | Truly Addicted! | Truly Hardcore! | Conqueror | Vanquisher |
| Destroyer | World Warrior | Trusty Sidearm | Pack Rat | Valued Customer |
| Shop A Holic | Last Man Standing | Survivor | Hard Rock | Heavy Metal |
| Speed Metal | Fantastic 9 | Fully Unloaded | Blue Bomber | Eco Fighter |
| Marathon Fight | Quick Draw G | Quick Draw C | Quick Draw S | Quick Draw H |
| Quick Draw J | Quick Draw P | Quick Draw T | Quick Draw M | Quick Draw X |