Club Nintendo members, rejoice
Pizza and gaming — they go hand-in-hand. Since the early days, Nintendo gamers have sat on their couch alongside family and friends with a box of pizza, the latest Mario Kart, and multiple greasy controllers. It's the natural order of things.
Now, to further this relationship between pizza and gamers, Nintendo of America President Reggie Fils-Aime has pulled a few strings this holiday season and is kindly hooking up Club Nintendo owners who are "the biggest Wii U fans" with $40 Pizza Hut gift cards for their next gaming night.
If you're weren't already aware of this, Reggie used to work as the Senior Director of National Marketing at the American division of Pizza Hut, where he launched the Bigfoot Pizza and The Big New Yorker as fans of the restaurant chain and international franchise may remember. No doubt here he is drawing on past relations to provide Nintendo gamers with this awesome deal.
Below are four photos of the gift card taken by Club Nintendo member and Nintendo Life user Kaine, who was pleasantly surprised when he discovered this in his mailbox: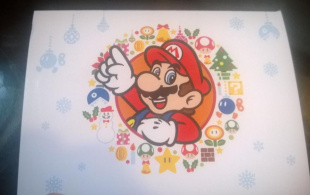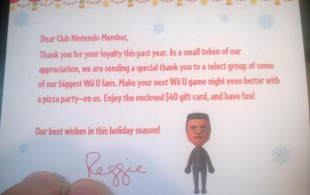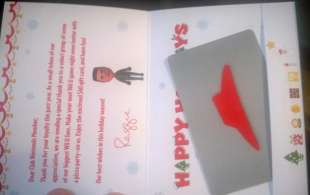 Source: http://www.nintendolife.com/news/2013/12/reggie_cuts_north_americas_biggest_wii_u_fans_a_sweet_pizza_hut_deal
Its quite a neat thing thats going on... I wonder what you need to be qualified as being the "biggest wiiU fans." Has anyone gotten one of these yet?
Anime: Haruhi Anime: Love Live
Nsfw Anime Thread Join our Anime Threads!
Sfw Anime Thread VGC Tutorial Thread