I can understand the rationale. But you can't escape the consequences.
If you have to verify used games to play them -- then there will not be any value to old games once the servers are off-line.
If you have to check-in periodically (once a day) on line to play the system -- then there will not be any (much) value to old systems when the servers go off-line.
In other words, you no longer own your hardware or sofotware. You use it so long as the company sees fit to have servers running.
To me, if I am interepreting this correctly, it makes spending $400 or more on a lnog-term rental of a machine that will be useless (and have no disposal value) in 5 or 6 years a very questionable investment.
Mike from Morgantown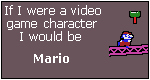 I am Mario.


I like to jump around, and would lead a fairly serene and aimless existence if it weren't for my friends always getting into trouble. I love to help out, even when it puts me at risk. I seem to make friends with people who just can't stay out of trouble.

Wii Friend Code: 1624 6601 1126 1492

NNID: Mike_INTV