17359 posts since 22/02/10
HOLY S&^$*#! Exseed you beauty! :D this made my day


1659 posts since 27/02/09
Hell yes!!!!!!!!!!! I'm so buying Ragnarok, who's with me??

@MUGEN: Oh so true, completely forgot about it. Hopefully they will show tons of gameplay videos plus a worldwide release date.




17359 posts since 22/02/10
3255 posts since 22/07/09
RafaelOrix said:
Hell yes!!!!!!!!!!! I'm so buying Ragnarok, who's with me??

@MUGEN: Oh so true, completely forgot about it. Hopefully they will show tons of gameplay videos plus a worldwide release date.
I is!


4783 posts since 17/04/09
Sal.Paradise said:
Great news!

This evening at an event held by XSEED, it was announced that the publisher will be bringing both Ragnarok Odyssey and the oddball music strategy game, Orgarhythm, to North America.

Ragnarok Odyssey was previously released in Japan and garnered fairly high praise from famous Japanese gaming magazine Famitsu, earning scores of 9, 8, 8, 7 from their four reviewers.

It is said to be something of a Monster Hunter-style game, and features a focus on "action-heavy" melee combat. It's being developed by GameArts which has worked on the Lunar and Grandia series.

The other title, Orgarhythm, was just announced a few days ago, and it's described as a rhythm-based combat game that doesn't sound too far off from something like a 3D Patapon. Players take control of a God-like figure who controls a set of elemental minions, and use the touch screen to choose formations while using different rhythms for different attacks.

XSEED said the game consists of twelve different maps which never play the same way twice, as the AI remembers your previous tactics and adjusts. It will also have both competitive and cooperative multiplayer.

http://www.gamesradar.com/ragnarok-odyssey-and-orgarhythm-north-american-vitas/
Cool! cool!
Now my worries is that it will be a PSN release only.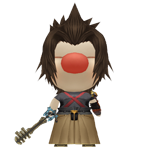 Correct me me if I had a wrong grammar, Believe me I would appreciate it. http://gamrconnect.vgchartz.com/thread.php?id=130023&page=25. PSVITA awesomeness!!
21796 posts since 18/04/07
Nice. Another game to buy whenever it arrives. Looking forward to both!


17359 posts since 22/02/10
If you actually think about it...we have a pretty solid line up of games coming don't we? Gravity, LBP, persona and now these. With more to be revealed at E3 plus we will know more about Soul Sacrifice next week! Good stuff :)


14681 posts since 10/11/11
Here's hoping that at E3:

-Final Fantasy X Vita will be shown
-Final Fantasy Type-0 announced
-Persona 4 The Golden release date confirmed
-Resident Evil Portable announcement
-Monster Hunter Portable 4 (or 5 o.O) announcement
-Grand Theft Auto Announcement
-Tekken Announcement
-Tales Of Announcement
-3-4 new IPs

I would love to be more surprised though *_*


17359 posts since 22/02/10
I know Ken Levine said all their focus is currently on Bioshock Infinite BUT I sure hope they show a teaser for the vita game to get things rolling :D
and good list basil
and check this out..
"
Disgaea 3: Absence of Detention is packed with four additional scenarios. Almaz & Sapphire star in Battle for the Test. Sidekicks Kyoko Needleworker and Asuka Cranekick take the lead in First Love!? Legend of the Super Delinquent. Big Star & Salvatore are the main characters in Evil Academy Culture Fair. And then there is Death Institute, Majin Academy which introduces new characters Rutile & Stella.
The main way of unlocking the extras is completing Mao's storyline in Disgaea 3: Absence of Detention's, but you don't have to wait to see all of the new stuff. You can do what a Netherworld Academy student would do to access the extras early – cheat.
On the main menu, keep the cursor on continue and press: Triangle, Square, Circle, Triangel, Square, Circle, then X. If you did it right you'll hear Mao say "I'll mess you up!" More importantly, a Parallel Worlder (dressed like a Masked Hero) will appear in your base (check the staircase with the floating islands). This character will open a portal to other storylines so you can jump right into Kyoko's storyline after completing Disgaea 3: Absence of Detention's tutorial mode."
http://www.siliconera.com/2012/05/03/mess-with-disgaea-3-absence-of-detentions-new-content-right-away/#disqus_thread
aaaaaaaaaaaand
"Sony will give PlayStation Vita launch title Hot Shots Golf 6 an update on the 7th. The update, which takes the game to version 1.04, will add the following features:
Versus RoomsPlayers can create rooms where they freely set match type, course and other rules. The game supports rounds with eight players playing simultaneously. You'll be able to engage in voice chat as you face off against your friends.Grade System Added to Real Tournament ModeReal Tournament Mode will now have a four level grade system, allowing you to face off against players who are close to your level.Tour System Added to Daily National Tournament ModeThe Daily National Tournament mode will feature a tour system where you take part in one week tours. Each tour will begin on Tuesdays. Tournaments will be held daily through Sunday, with the results announced on Monday."
http://andriasang.com/con0vs/minna_no_golf_6_update/
14681 posts since 10/11/11
Thanks MUGEN, I'll be getting Disgaea 3 first for sure when I get my Vita sometime later this year or next year.