GOWTLOZ said:
CGI-Quality said:
Character models? Yes. Environments? No. Those were two of the biggest games I covered in 2017 and RE7 was, overall, a few notches above Hellblade there. Environments (AO, deformation, Normal/Bumps, etc, etc...) all go to RE7.
Still, I support your overall point.
You guys are missing the point here. Compare Hellblade and Devil May Cry 5 on PS4 for instance. Devil May Cry 5 has better materials and volumetric effects, lots more enemies on screen and they look comparable in other areas, but Hellblade is running at 30 fps and DMC at 60 fps. Same for Xbox One X, they might run at the same framerate but to achieve that Hellblade is running at much lower resolution than DMC. DMC looks amazing while NOT sacrificing either resolution else framerate, which is why the engine is impressive and nothing on Unreal Engine has achieved the same.
I missed none of the point, because I didn't compare DMC to Hellblade. But, since you threw out those graphical effects, I'll bite (you'd do best to spare yourself from this from now on ) :P
When talking 'materials', you have to understand what that means. What materials? DMC isn't out yet, so I haven't had time to dissect it, but Hellblade (Senua specifically), I have: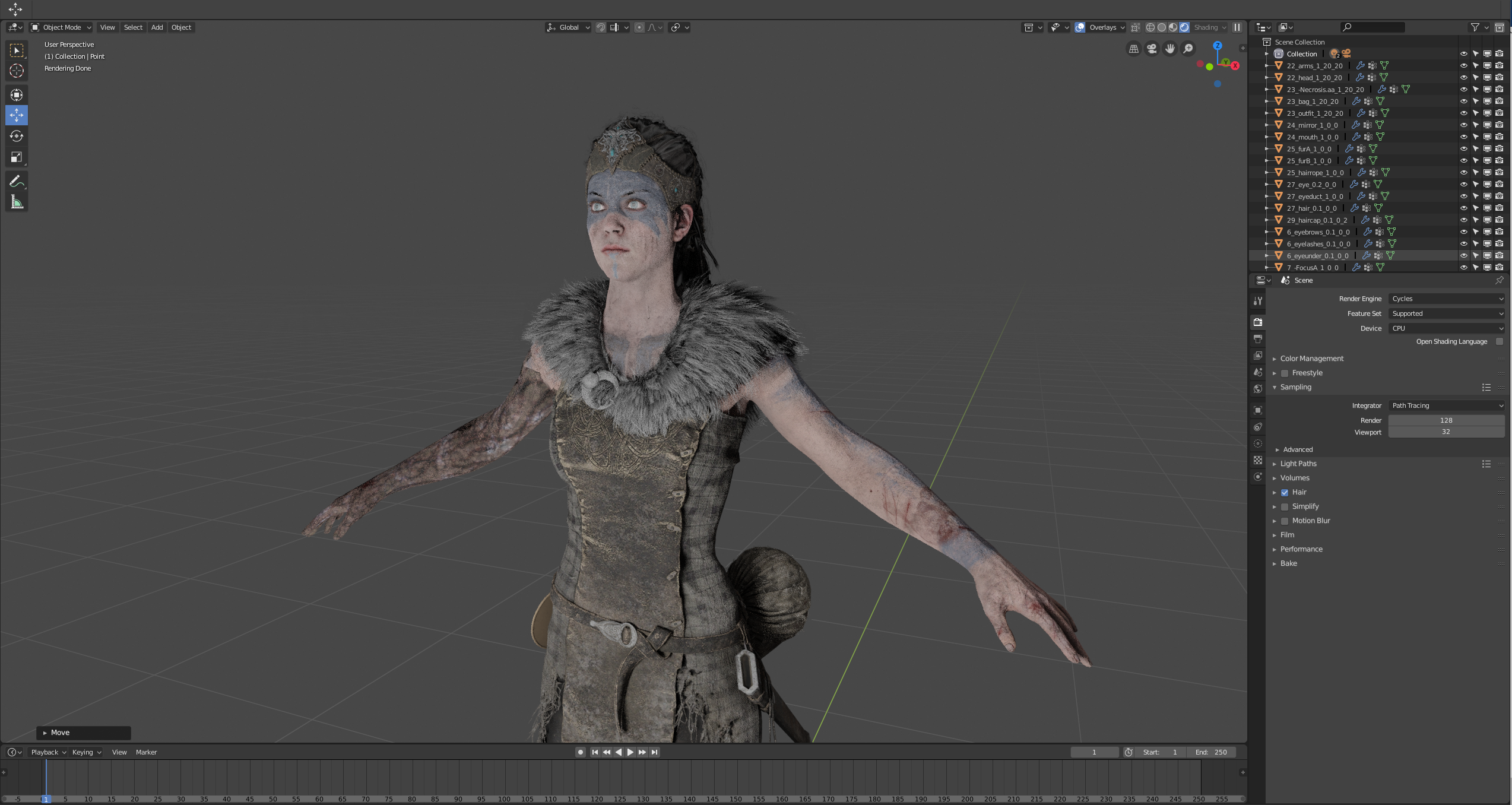 The girl contains a canvas of 8K materials (that is 8192x8192 ~ though in fairness, that may have been reduced for console). Regardless, I haven't seen DMC's yet, but none of its character models quite achieve the look of Senua:
All in-game. Sometimes, even the size of the maps are irrelevant, because when talking 'better materials', you can achieve some fantastic results without creating massive material planes. Next ~ I haven't seen anything special from DMC's environments (though, again, I haven't had time with it, so that view may change after March 8). Enemies on screen? Well, that may be, but when talking sheer graphical might, it still doesn't help DMC to leapfrog Hellblade. Not from what I've seen.
One last thing you need to learn about.....sacrifices. There will always be sacrifices. Especially if a game has to run efficiently on consoles. Don't let some of the developer hyperbole cloud these discussions. They're making sacrifices in DMC, just like they did in Hellblade and so on and so forth.