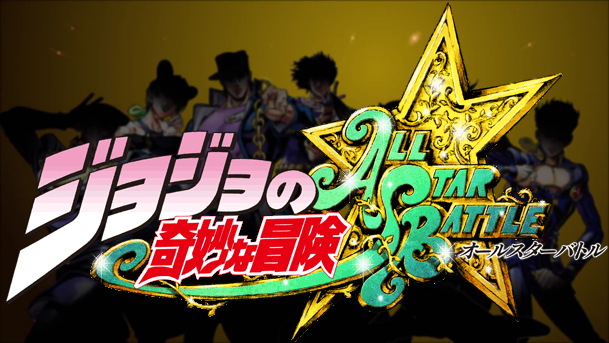 General Synopsis
JoJo's Bizarre Adventure: All Star Battle (ジョジョの奇妙な冒険 オールスターバトル JoJo no Kimyō na Bōken: Ōru Sutā Batoru?) is an upcomingfighting game based on Hirohiko Araki's manga series, JoJo's Bizarre Adventure. It is being developed by CyberConnect2 and will be published byNamco Bandai Games for PlayStation 3 in 2013.
Gameplay
JoJo's Bizarre Adventure: All Star Battle is a 3D fighting game much akin to Tekken and Street Fighter IV in which two fighters engage on a 2D plane with the ability to side-step a full 360 degrees around their opponent. Much like other fighting games, the game also includes a traditional set of status bars for the characters including the standard health bar which is depleted when attacked, as well as a guard bar which causes the characters guard to break when depleted, and a "Heart Heat" bar that, when full, allows characters to unleash more powerful "Heart Heat Attacks" much like traditional fighting game "Super Moves".
The game will also feature a "Style" button which acts much like the Stand button from Capcom's previous Jojo's Bizarre Adventure arcade game, allowing characters to activate their special powers, changing the way in which the character's attacks work and affect their opponent. As characters who do not possess Stands will be featured in the game, this button will activate the character's Ripple powers when appropriate, and other possible abilities including a horse and the Spin in the case of Gyro Zeppeli and Johnny Joestar.
Confirmed Characters
Part 1


Jonathan

Zeppeli

Dio

Style

Ripple
Ripple
Vampire

Part 2


Joseph

Caesar

Wamuu

Esidisi

Kars

Style

Ripple
Ripple
Wind Mode
Heat Mode
Light Mode

Part 3


Jotaro

Kakyoin

Polnareff

Avdol

Hol Horse

DIO

Style

Stand
Stand
Stand
Stand
Stand
Stand

Part 4


Josuke

Okuyasu

Koichi

Rohan

Akira

Kosaku (Kira)

Style

Stand
Stand
Stand
Stand
Stand
Stand

Part 5


Giorno

Bruno

Mista

Narancia

Diavolo

Style

Stand
Stand
Stand
Stand
Stand

Part 6


Jolyne

Hermes

Pucci

Style

Stand
Stand
Stand

Part 7


Johnny

Gyro

Valentine

Style

Horseback
Horseback
Stand

Part 8


Josuke

Style

Stand
Downloadable Characters
"Life is but a gentle death. Fate is but a sickness that results in extinction and in the midst of all the uncertainty, lies resolve."