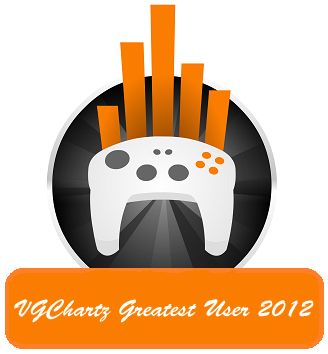 Welcome to the VGChartz Greatest User Tournament 2012, please read the rules.

The Rules.

1. Vote from your favourite to least favourite, feel free to copy paste this template and use it. 5p is full points, 1p is 1 point. If you're still unsure ask me for clarification.

5p - Batman
4p - Spiderman
3p - Superman
2p - Catwoman
1p - Green Lantern.

2. ONE vote per round.
3. Must have over 200 posts.
4. Users in the Tournament CAN vote in EVERY round. Even their own.
5. NO flaming or insults will be tolerated. Not even sly digs.

These are the prelims, the highest 2 voted for out of the 5 will progress.
Previous Rounds: [1] [2] [3] [4] [5] [6] [7] [8] [9] [10] [11] [12]
| | | | | |
| --- | --- | --- | --- | --- |
| | | | | |
| Jay520 | tabaha | ioi | Mike_Intellivision | Smeags |
Last Round Results:
zero129 - 126
NoCtis_Nox - 91
TWRoO - 82
sales2099 - 74
NintendoFanGirl - 47
People who made it through to Stage 2:
Barozi
Galaki
theprof00
zarx
DanneSandin
Kresnik
BenVTrigger
outlawauron
pezus
CGI-Quality
amp316
M.U.G.E.N.
Kantor
Andrespetmonkey
NiKKom
lestatdark
axumblade
Boutros
wfz
archbrix
brendude
yo_john117
zero129
NoCtis_Nox

"The path of the righteous poster is beset on all sides by the inequities of the trollish and the tyranny of flaming men.
Blessed is he, who in the name of decency and good discussion, stays on topic through the valley of cheap shots, for he is truly his forum's keeper and the finder of lost quality.
And I will strike down upon thee with great vengeance and furious anger those who would attempt to flame and troll other users.
And you will know my name is the Mod when I lay my banhammer upon thee. "