I have not played it much either, but I do enjoy it!
@ Vic
Did America get the last one? Or has it only been released in Japan.
Go to the link to enlarge!
April 18th, 2012 Posted in 3DS, Posted by Valay, Screenshots
Monster Hunter and Jazz Finally Brought Together
Posted Wed, 18 Apr 2012 | 16:00 BST by Thomas Whitehead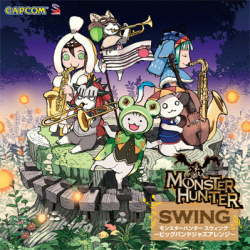 Swing that giant sword
When battling huge monsters in Monster Hunter Tri, and no doubt desperately hoping to hunt down some extra meat to gorge on, have you ever wished that there was a jazz soundtrack to keep you going? Well, the day has finally arrived, if you live in Japan.
As reported by Andriasang, Capcom has released a new soundtrack with a rather snappy title — The Monster Hunter Swing: Big Band Jazz Arrange. Perhaps the interpretation to English hasn't done it any favours, but the CD does include ten tracks spanning the history of the franchise right up to the latest 3DS release, Monster Hunter 3 G.
Those of us outside of Japan are yet to get our hands on the 3DS title, nor can we pop to our local shop to buy the soundtrack, but the video below does provide a toe-tapping five minute taster.
The NINTENDO PACT 2015[2016 Vgchartz Wii U Achievement League! - Sign up now! My T.E.C.H'aracter