From Gamepro.com
http://www.gamepro.com/news.cfm?article_id=151628
Square Enix: Wii is a toy; Sony needs to define PS3
Yoichi Wada, CEO of Square Enix, expressed concern on Wednesday for both Nintendo's Wii and Sony's PlayStation 3 when compared to Xbox 360.
"I think the current trend is that most people aren't buying the Wii as a game machine, but as a toy," said Wada in speaking with CNET Japan.
"The Wii is the antithesis of the Xbox 360," he adds. "Xbox 360 is strictly for hardcore gamers. The attachment rate for the Xbox 360 is much higher than for the Wii. People who buy the 360 really like games."
First of all, I have seen other reports on this not quite as "Wii is a toy" in their interpretation of Wada's comments, though the general intent of the message was not any different.
This is not the first time that someone at S-E has spoken ill of the Wii. There are definitely some mixed feeling about Nintendo and its latest console there. And it also probably points to the problem seen more in Japan than in other markets, Wii software does not sell as well as expected.
It is interesting that the CEO would praise the Xbox 360 which S-E is just now beginning to program for them. It is also interesting to see him be negative about the PS3, considering the relationship with Sony and the exclusives scheduled for that console. (It also sounds a lot like comments made by Konami regarding the PS3).
Does this -- and other comments from Japan -- show a distrust of the Wii? Do they really point to the fact that no one knows what is truly going on? Do they show the frustration of developers who suddenly realize they must program for non-Japanese audiences to maintain strong sales?
(Final note, Wada gets defensive when it is suggested that S-E is mostly just releasing sequels on existing game franchises)
Mike from Morgantown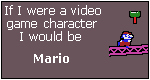 I am Mario.


I like to jump around, and would lead a fairly serene and aimless existence if it weren't for my friends always getting into trouble. I love to help out, even when it puts me at risk. I seem to make friends with people who just can't stay out of trouble.

Wii Friend Code: 1624 6601 1126 1492

NNID: Mike_INTV