Read the article here. Be sure to share it.
PS4 vs Xbox One in the US – VGChartz Gap Charts – March 2020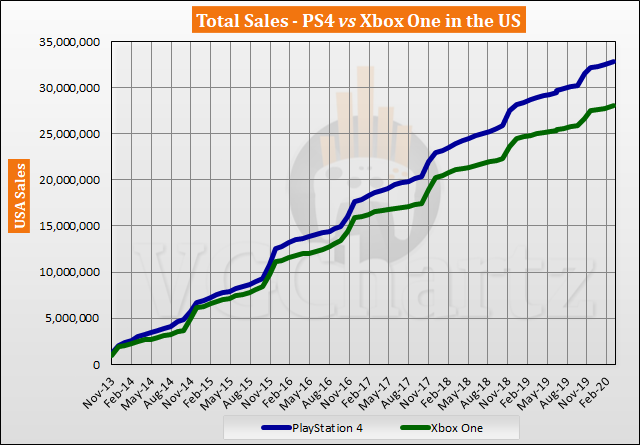 PS4 Vs. XOne US:
Gap change in latest month: 39,306 – PS4
Gap change over last 12 months: 841,914 – PS4
Total Lead: 4,761,901 – PS4
PS4 Total Sales: 32,783,315
Xbox One Total Sales: 28,021,414
In March 2020 the gap in the US between the PlayStation 4 and Xbox One grew in favor of the PlayStation 4. The PlayStation 4 sold 39,306 more units than the Xbox One in the last month. The PlayStation 4 has also sold 841,914 more units in the last 12 months. The PlayStation 4 currently leads by 4.76 million units.
The PlayStation 4 launched in the US on November 15, 2013, while the Xbox One launched on November 22, 2013. The PlayStation 4 has sold 32.78 Million units, while the Xbox One has sold 28.02 million units.
The PS4 and Xbox One have sold a combined 60.80 million units in the US. The PS3 and Xbox 360 sold a combined 72.13 million units lifetime in the US. The PS4 and Xbox One need to sell another 11.33 million units to reach the sales of the previous generation.
VGChartz Sales Analyst and Writer - William D'Angelo - I stream on Twitch and have my own Youtube. Follow me on Twitter @TrunksWD.
Writer of the Gap Charts | Weekly Hardware Breakdown | Top 10 | Weekly Sales Analysis | Marketshare Features, as well as daily news on the Video Game Industry.