Nintendo released some interesting break downs about Switch owners.
This chart shows the active user base of the Switch is overwhelmingly adults, as in kids (under 18 crowd) probably don't even make up even 25% of the total audience.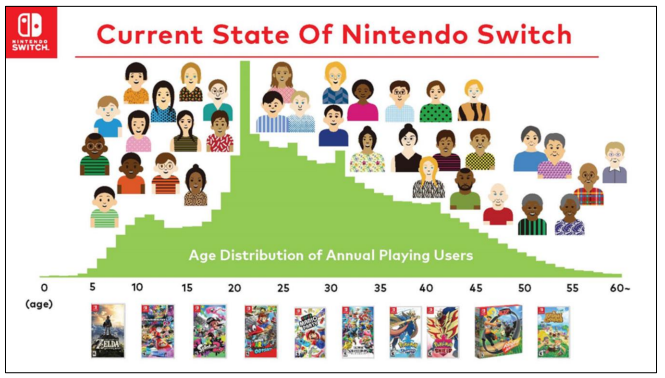 Other interesting things, 20-30 year olds are the leading user demographic for the Switch by a wide margin with 21 year olds being the peak. But another interesting thing is even as we get into 30s and 40 year olds, 40-41 year olds are still a higher part of the active user base than 10, 11, 12, 13, year olds. So there are more 40 year olds playing/owning Switch than 11 year olds.
This has always been my theory, just as with comic books the majority fan base for characters like Spider-Man and Batman today are actually adults, not kids, even though at one time they were thought of as kids characters.
Another interesting breakdown of the Switch audience is here: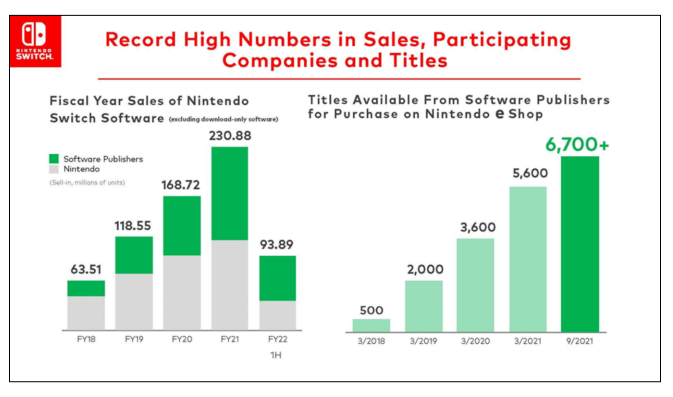 The interesting thing here is the first two fiscal years of the Switch's life cycle we see a kind of typical software break down that
you might expect, but as the life cycle of the Switch has gone on, 3rd party software becomes the majority seller, it looks like it was just over half of the Switch software last fiscal year and this year thus far it's even more pronounced with what looks like 65% of the Switch software pie.
The other interesting thing about this is this is physical software only, so digital only third parties like a lot of indie games are are not even included in that software split.