o_O.Q
on 04 September 2019
tsogud said:
o_O.Q said:
" Either you have a legitimate comprehension problem when it comes to other ways of thinking"
I do when I can see glaring issues with them yes, as I would expect of anyone, funny enough, but when it comes to certain issues you become a demon if you don't just shut your brain off and accept what others tell you to think
"(that would explain why you make so many logical fallacies in your arguments as a way to connect the dots"
examples?
"you have grown a disconnect with your online and irl personas so you don't care about the truth of the matter or learning anything anymore and have since become comfortable in this state."
first off this is absolutely incorrect, my opinions are consistent all the way through because I try as much as possible to root my ideas in actual reality
a very short time ago, the "truth" of the matter that was being debated was whether biology was being ignored when it comes to this concept... that has pretty much been conceded
now that this was conceded I'm just pointing out how I personally believe its untenable
regardless of that can you tell me what truth I am not accepting from your view?
the only thing so far that I have not accepted is that I have to completely disregard the physical reality of biology in ascertaining whether someone is a man or a woman
"moving goalposts, misdirecting a convo you started, blatantly being duplicitous on your positions, etc."
my position from the very beginning has been that this idea is flawed because it refuses to acknowledge biology and I have been consistent about that all the way through
whereas as I mentioned previously my opponents have flipped flopped collectively back and forth between stating that it does not dismiss with biology to later stating that it does dismiss biology depending entirely on "identity" a position you also have
sundin:
"As previously stated, contextualizing and expanding on biology is not dismissing biology.
It appears we are at am impasse as you are incapable of acknowledging that exceedingly obvious fact."
pi-guy:
">because I actually think biology which means the physical reality of the structure of bodies plays a role in whether a person is male or female, i don't think that simply because exceptions exist then that means that categories must be discarded with
1.) Even if it did mean that, why would that matter? We don't have categories for a lot of things.
2.) And it doesn't mean that. It just means the categories are more flexible. "
also pi-guy:
"I'll gladly call you a woman. I personally don't care even if you were lying, because some random person's gender doesn't affect me. "
pemalite:
"Who gives a shit about the distinction?

If someone identifies as a man, call them a man.
If someone identifies as a woman, call them a woman."
ts-gud:
"You can be trans and not transition. "
I gleaned these quotes from just 2 pages, I suppose I could look for more if you wanted more
"if you really want to know the experiences and issues of trans individuals and what they go through"
that's not the issue here, which is why I've never focused on that
the issue here is whether this idea can actually work in the real world and I'll assert that it cannot without acknowledging biology
and by work I don't mean people should be stopped from transitioning, I mean when it comes to them actually being perceived as the other gender or "non-binary"... now how someone can be "non-binary" when they either have testosterone or estrogen pushing their bodies in one direction or another is beyond me... but whatever, not my problem
this is probably why you think I'm not being consistent - because you haven't actually read what I've said to understand what my issue with this is or you just don't care about whether its an idea that has a solid foundation or not
"I strongly suggest you stop having dishonest "debates" on topics with which you obviously won't change your mind on."
btw if you are debating enitrely to change the other persons' mind then you're a waste of time
the purpose of a debate is to try to evaluate what the truth of something is, if you are going into debates with the assumption that you are right and you have to change the other person's mind then what's the point?
You are an incredibly hilarious person omg. You're literally doing exactly what I described in the comment you quoted. What's hilarious is that it seems you genuinely don't know you are.
You picked out parts without taking it as a whole which is consistent with your history, I'm not surprised but disappointed that you don't even try to change it up. If you actually look at what I said I was speaking about what you do in general it's not specific to this thread but it does still apply.
@bolded is especially funny because what you constantly contradict "actual reality" because "muh feelings" or other excuses you come up with.
@bolded/italicized you should take your own advice because if you did you wouldn't be saying half the stuff you continue to say.
You say the whole point of this is to see if this "idea" can actually work. What idea? Transgenderism?? Well if that's all then, yeah, it actually does work, take it from a trans person like myself. Case closed. You're done here you've got your answer, do with it what you will.
"You picked out parts without taking it as a whole which is consistent with your history"
well obviously because I posted multiple quotes I'd try to extract the portion that is relevant to the point I'm making, are you arguing that I'm misinterpreting what is said? ok lets use your whole post as an example
http://gamrconnect.vgchartz.com/post.php?id=9050537
"You can be trans and not transition. Moreover, you can be trans and not want to transition. Some trans people transition and then later realize they didn't have to and regret it after, they're an extreme minority but it happens and it doesn't make them any less trans. Some people need to learn what it actually means to be trans."
ok so my argument is that you are dismissing biology because you are stating here that the only thing taken into consideration is 'identity"
this was my original assertion, can you explain for me how I've mischaracterised the claim you've made?
"is especially funny because what you constantly contradict "actual reality""
can you give an example?
"You say the whole point of this is to see if this "idea" can actually work. What idea?"
that the classification of man and woman can simply be ascertained through self declaration regardless of the biological state of the person
this man did so
https://twitter.com/zubymusic/status/1100348562041462784?lang=en
then later admitted that he wasn't being serious in order to point out how illogical the idea is, but suppose he didn't admit to being dishonest? I mean examples like this should easily demonstrate I would think that there are issues with this idea
the fact of the matter is that we do not interact with the world around us simply through our "identity", but we interact with the world through our bodies which are the result of biological processes, its insane to try to argue that this is irrelevant in my opinion
the other thing is what does this mean for other identities? what if this man who is obviously fat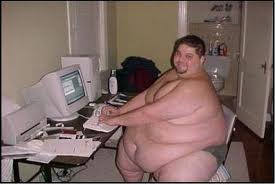 wanted to instead identify as having this type of body?
shouldn't he be able to under this idea?
Last edited by o_O.Q - on 04 September 2019