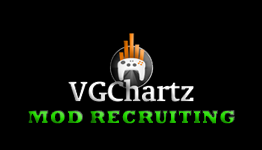 Spring 2019 Recruitment To The VGChartz Moderator Team!
Hello everyone and welcome! So, we have a number of moderators either stepping down or changes within the team (I will have a separate thread for all of that). As a result, we decided that now is the time to add some new faces and views to the mix! This is where we turn to you!
During this side of the year, there is a lot of excitement gearing towards E3, so adding to that fun with new users on the VGC Mod Team is an exciting prospect! We are looking for moderators that bring something of note to the table, including these qualities:
· A focus on teamwork
· A positive attitude
· An ability to challenge the process in a constructive way that makes it better
· Consistency
· Motivation to contribute
· Patience
· Time
If this sounds like something that interests you, and you feel up to the task, please complete the application below and PM it to me with the subject line "Mod Application - (Your VGC Username)".
Before we get to that, how about a FAQ?
Q1: "How many moderators are you looking to hire"?
A1: If you meet our requirements, you will be hired! This Season, we will be recruiting 3-4 new moderators!

Q2: "I submitted an application in the past. Will I need to submit a new one"?
A2: Yes. Some things have been altered and changed within the team and the moderator guidelines, so new applications are a must!

Q3: "What is the process"?
A3: Myself and Ryuu96 (Head Moderators) will read over all applications. Those who meet our initial requirements will have theirs passed on to the rest of the mod team. After they also review the applications, and give their thoughts, the Head Mods will finally come back together and choose the new moderators.

Q4: "When will you reveal the new moderators"?
A4: It will take some time, as we want to be sure every application is carefully looked over and all final picks are considered, but we have a goal of March 1, 2019.

Q5: "Can anyone apply"?
A5: Absolutely! Anyone can submit an application.

Q6: "I have either been moderated before or have an extensive moderation history. Should I even bother to apply"?
A6: Well, we do review user behavior (particularly recent), so that is definitely something we consider while deliberating. However, it is not an automatic disqualification. Take a chance! Remember that you can earn more than you will lose!

Q7: "It's February 18th! Am I late"?
A7: Yep! The train has left the station! Always another one on the way, however!
Now, the fun stuff!
THE APPLICATION
*Make sure you are PM'ing these to me (CGI-Quality)
1. Your VGC Username
2. Age
3. Country
4. Timezone (Preferably use GMT +/-)
5. What gaming systems do you own? What are your favorite games?
6. Why is the VGChartz Community important to you?
7. How often do you generally spend on VGChartz throughout a week?
8. What sort of discussions do you participate in? What do you bring to these discussions as an individual?
9. Anyone can affect the forums in a positive manner, regardless of their position, so why are you interested in becoming a mod?
10. In what ways can you support and aid the mod team and this site?
11. How will you contribute to the team (whether it be availability, time, effort, community building, on the site or in mod chat)? No, scratch that, ModChat is a MUST!


And that's it!
We look forward to hearing from you!
CGI-Quality, Ryuu96, and The Moderator Team.
Last edited by CGI-Quality - on 13 February 2019