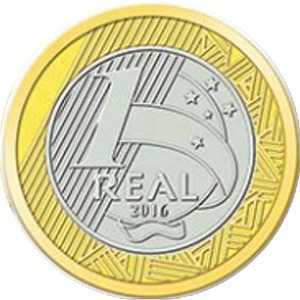 Hey, guys and girls from VG Chartz.
Well, today as a day like any other, except that it could rain anytime. So, I was going with my mom to a registry, since I just purchased my first car (yay, I can drive).
We were walking a busy street when we found ourselves in front of a bar. There were some guys drinking beer and watching TV, a very ordinary scene. However, what caught my attention was the sidewalk of the bar. I found a shiny coin there. A coin like the one you see above.
It was a R$ 1,00 coin, so I thought "Sure, why not?" Then I reached out to grab the delicious coin. When I found out that the coin was glued to the ground...
At that moment I heard a lot of laughs coming from the bar. One of the guys said "Look, he tried to grab it!" Well, the classic prank had worked, so I just said "Man, what a stupid thing to do..." and walked away. My mom noticed I was behind her and asked "What happened? Why did you stop back there?" Then I answered "I fell for the coin prank." She said "So that's why I heard the laughs at the bar..."
Well, that was not a crude joke, so we just had a laugh at myself.
So, this is it, guys. Be careful when you see a shiny coin in the street. The classic pranks are still going on.