Update: The message glitch has been fixed according to Playstation UK.
https://twitter.com/AskPS_UK/status/1051844976844464129?s=19
Sources: https://www.reddit.com/r/PS4/comments/9nselm/warning_set_your_messages_to_private/
Better set your messages on PS4 to private or else a glitched message might lock up your PS4

(settings > account management > privacy)https://t.co/s4DzBXRMT1 pic.twitter.com/B203EzXriS

— Nibel (@Nibellion) October 13, 2018
A "glitch" through messaging has been discovered and people with PS4's should set messaging to "Private" for now.
To set messaging to private:
1. Go to Settings
2. Go to Account Management
3. Go to Privacy Settings
4. Enter Password
5. Go to Personal Info > Messaging and set Messages to "No One" or "Friends" if you trust them.
The "glitch" would brick lock-up your console and forces you to factory reset it. Beware when sending messages as the cause of this is(as Playstation Uk stated) a "Heart Emoji"which the console can't see/read.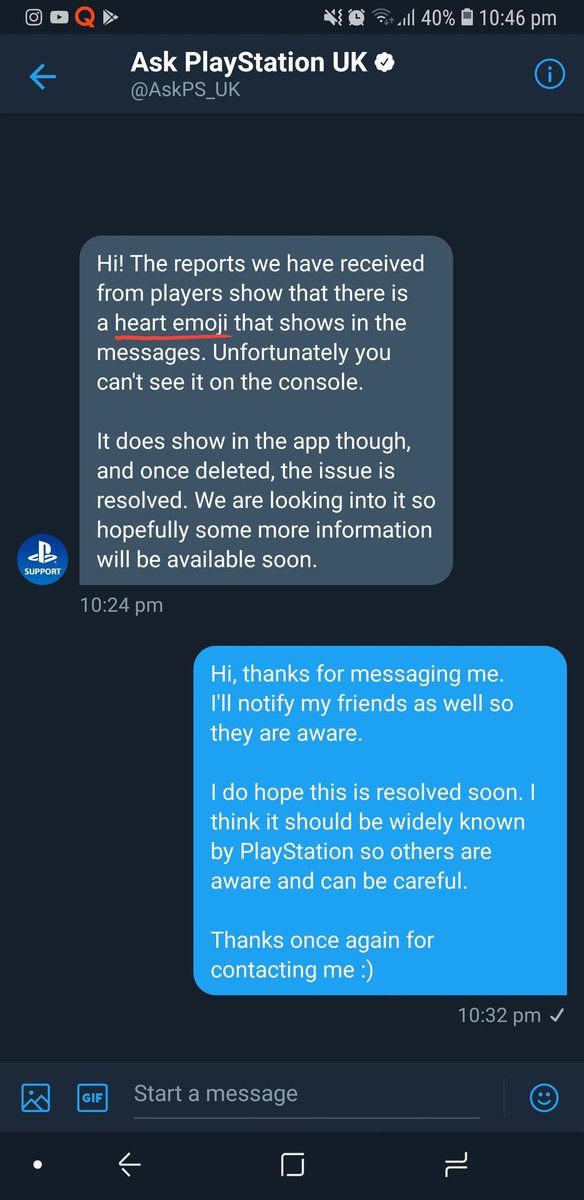 This happens just by receiving the message, then controllers stops responding and the console crashes.
Here are some fixes I read that worked for some.(this may/may not work for you as some stated)
Rebuild Database (this one takes a lot of time depending on your save content)
1. Power off console completely.
2. Turn on console into safe mode( Press and hold power button on the PS4 until it beeps twice).
3. Pair your Dualshock controller to the PS4.
*The console will be in safe mode.
4. Choose option 5. Rebuild Database
Now the screen will go blank and this could take hours depending on the amount of saved content.
Delete the "Message" from your Playstation App
Just like it says, just go to your Playstation App and delete the message, now keep in mind, some says this did not work for them.
Now if those above didn't work for you, you'll just have to factory reset your system.
Last edited by Sunstrider - on 17 October 2018