While I've been digging on Octopath Traveler's visual style, my mind can't help but imagine more games looking just like this.
Call me crazy, but Octopath's art direction really takes the best of the refinements of pixel art with HD in a way I really don't think has been done just right before. You can really tell in gameplay there's more than just pixel art going on here.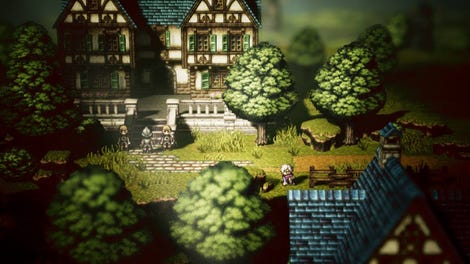 Every time I'm looking at this game - it makes me feel like we got a totally different next-generation take on SNES mode7 like graphics.
Which got me thinking - why not remake a ton of sprite SNES/Genesis/PS1/N64/GBA era games remade like this? Or how about entirely new games in this same style? Especially JRPGs for sure, but other games too.
It would be really cool to get a 2D Zelda in this style. Or FFVI remade like this. And wouldn't it have been better if Secret of Mana remake had this visual style too?
What about a 2D Mario like that looks something like this? Or even an F-Zero or Starfox game with this same mix of sprites and polygons?
What if Sonic Mania 2 took similar art design? Or how about Doom? Picture this: a new DOOM in this style and a fresh new level editor and it looks like this.
What do you think?
I predict NX launches in 2017 - not 2016