A lot of Games!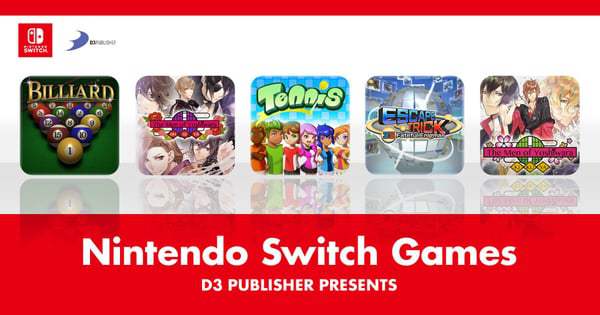 D3 Publisher has announced a lineup of downloadable titles for Switch, which are all planned for release in both English and Japanese.
Get the full lineup below.
Tennis
Japanese Release Date / Price: January 25 / 800 yen
Note: Japanese release supports English and Japanese languages
A tennis game that can be picked up and played by anyone. Enjoy the game by yourself, or play against family and friends. With 8 characters and 6 courts available, feel the excitement that tennis brings. The game can be played not only with the Pro Controller, but also by swing the Joy-Con or touch the screen.
Trailer:
https://www.youtube.com/watch?v=tiwoiZHdxZw&feature=youtu.be
The Men of Yoshiwara: Kikuya
The Men of Yoshiwara: Kikuya is a popular romance game for women. At the end, to whom is it that you will be talking of love?
Escape Trick: 35 Fateful Enigmas
"The Father Who Vanished" & "Waking Up Imprisoned." What connecting truth lies under the mysteries of both stories? Play and find out!
Billiard
A 3D pool billiards game that uses the Joy-Con's brand new capabilities to make it feel like you're holding a real cue. Includes the 3 most popular billiard games and one original game. 9 Ball, 8 Ball, Rotation, and Basic Game for a total of four game modes. Complete with the ability to play head to head on a single Nintendo Switch.
The Men of Yoshiwara: Ohgiya
The Men of Yoshiwara: Ohgiya is a popular romance game in Japan aimed at a female audience. Step into the pleasure district of Yoshiwara with the roles of male and female reversed and enjoy a heart-rending love story.
Last edited by Shikamo - on 18 January 2018

(=^・ω・^=)

Kuroneko S2 - Ore no Imouto -
Steam, MyAnimeList and Twitter - PSN: Gustavo_Valim - Switch FC:
6390-8693-0129
(=^・ω・^=)