So remember that entire controversy about how an EA employee received death threats over the micro-transactions in Battlefront 2? Well .... according to this Kotaku journalist who, get this, actually did investigative journalism - he probably never worked at EA in the first place. Just to be clear, this does not mean he didn't receive death threats, because his hoax has been going on for years. Rather, it's just an interesting ongoing story that seems to draw a lot of suspicions about whether or not he was ever an employee to begin with. To summarize ...
"With around 5,000 followers on Twitter, BiggSean66 doesn't have a particularly huge audience or platform, but when he tweeted Monday that he was "up to 7 death threats, and over 1600 individual personal attacks now," he went viral. Gaming and mainstream outlets picked up his story, writing about how the outrage over Star Wars Battlefront II's microtransactions led to gamers threatening BiggSean66's life. Hundreds of developers and journalists also quoted him, sent sympathies, and talked about the incident on Twitter, condemning those who felt the need to sent death threats to BiggSean66.
Yet, after speaking to several current EA employees, cross-referencing his details with Linkedin and Facebook pages, and reaching out to BiggSean66, I've become convinced that he does not actually work for EA. In fact, since I sent him several messages yesterday and this morning, he has changed his Twitter profile to remove all mentions of EA."
[author cross references and finds no info for him]
[...later...]
"Contacting BiggSean66 also proved difficult, but thanks to a clutch assist from the Kotaku Twitter account, I managed to get in touch with him via Twitter DMs. I told him I was working on a story and really needed to talk to him, ideally on the phone. He said Twitter DMs would be best, and that I was welcome to ask him my questions, "as long as it's off the record." I said OK, but his request wouldn't matter much, because after I sent over this question, he stopped responding."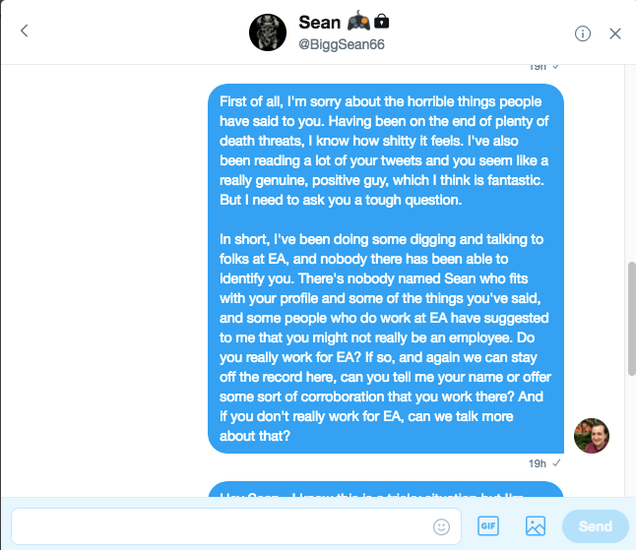 "BiggSean66 didn't respond to any of my follow-up questions, but at some point after receiving them, he changed his Twitter profile, removing all mentions of EA. He has also locked his account. He hasn't tweeted since Monday."
[..later updates..]
"UPDATE (November 16, 6:30pm): In the day following this story, we received a whole lot of reactions as well as some new information about BiggSean66. I heard from and reached out to a few dozen people, including BiggSean66's acquaintances and current and former EA employees. There were two developments worth noting. The first was that BiggSean66 had a different social media page where he'd posted a few photos that appeared to be taken from inside of EA's offices in late 2015 and early 2016. Problem was, three of those photos had been posted on the Visceral Games Twitter feed months before BiggSean66 posted them.
One of BiggSean66's photos, which we have not seen elsewhere, featured a sign from inside of EA's Game Lab, where the company brings in focus testers to check out new games in exchange for swag or gift cards."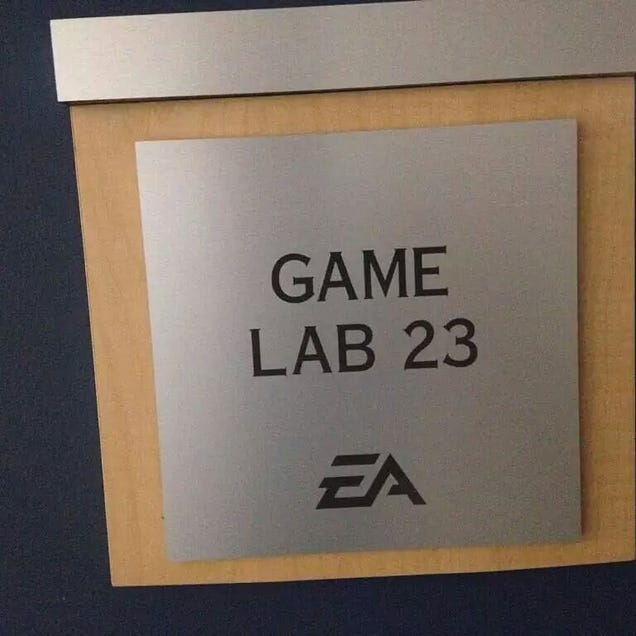 "The second development was that several EA employees confirmed to me that there is nobody in the employee database matching BiggSean66's full name, which an acquaintance of his shared with me (and which, as I later found, he had tweeted to a few of his followers). One former EA developer who worked at Redwood Shores told me that, as far as they could tell, there had been nobody named Sean in the QA department whose information matched with BiggSean66."
____________________________________________________________________________________________________________________
mentioned in article :
There were multiple unproffesional tweets...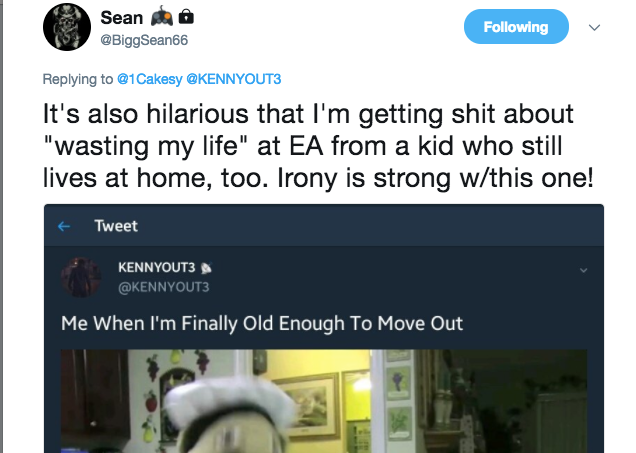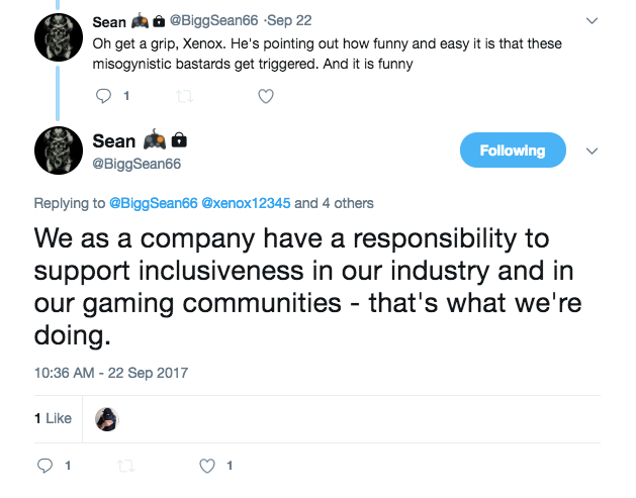 ..contradictions..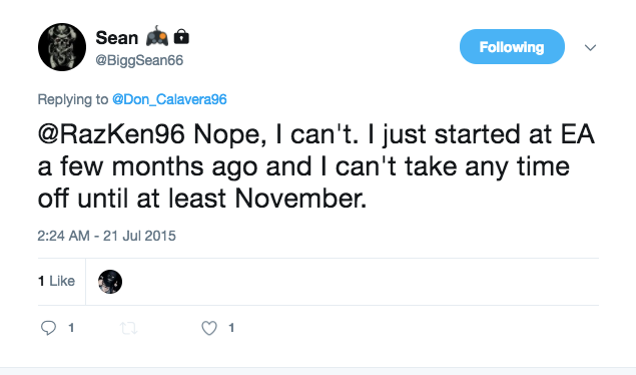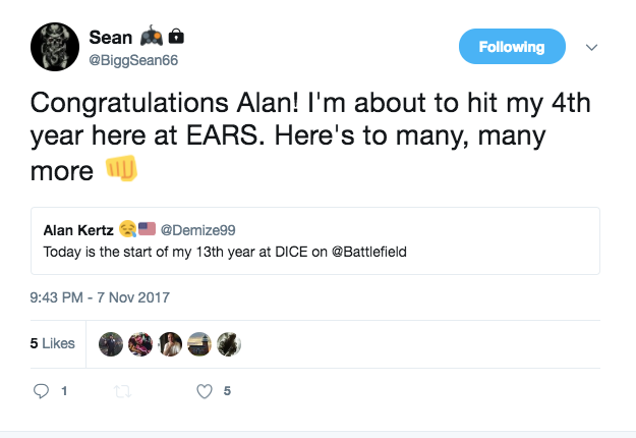 Here is the source: https://kotaku.com/the-curious-case-of-the-ea-game-dev-who-said-he-receive-1820474458
So, what do you guys think? Obviously the story is still developing, and I don't doubt that he could be a dev. Just somewhat suspicious.