Police have confirmed a "number of fatalities" following reports of an explosion at Manchester Arena.
Witnesses reported hearing a "huge bang" following an Ariana Grande gig at Manchester Arena.
Network Rail said train lines out of Manchester Victoria station, which is close to the concert venue, were blocked.
Greater Manchester Police tweeted to urge people to stay away from the area.
'Screaming and running'
A number of eyewitnesses have described the confusion in the aftermath.
Robert Tempkin, 22, from Middlesbrough, said: "Everyone was screaming and running, there were coats and people's phones on the floor. People just dropped everything.
"Some people were screaming they'd seen blood but other people were saying it was balloons busting or a speaker had been popped.
"There were lots of ambulances. I saw somebody being treated. I couldn't tell what had happened to him."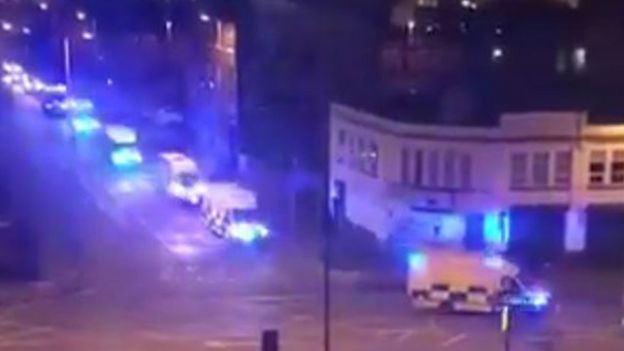 Image copyright@SAMWARDMCR/TWITTER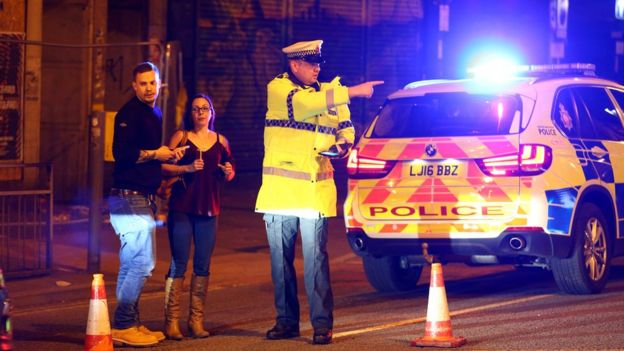 Image copyrightDAVE THOMPSON
Josh Elliott, speaking to BBC Radio 5 Live, said he was shocked by news of the fatalities.
"A bang went off and everyone stopped and screamed... we basically hit the deck," he said
"It was bedlam… it was horrific.
"We got up when we thought it was safe and got out as quickly as possible.
"People were just crying and in tears... police cars were everywhere.
"We just wanted to get out as quickly as possible because we didn't know what was going on."