---
I don't want to write articles based on speculation, so I figured this would make for an interesting thread instead. I was thinking about Arms. I've been thinking about it ever since it was revealed, and I think it looks phenominal. It's legitimately my favorite new game that they showed there. Now I'm sure some of you are a little confused by this, because the way Nintendo premered it made it look kind of like a tech demo for the new motion controls.
Now, while that's not really the case, that falls into speculation. I'll repost something I said in another thread:
spemanig said:
I just think there's way more to that game than what it seemed like at the press conference, and Nintendo is going to push it way harder than people think they will. The director for this game is the director of Mario Kart 8. Looking at the art direction and soundtrack, it seems like this is being done by the Mario Kart team as a whole. The arenas seem to have a lot of detail and are designed with a similar attention and interactivity as Mario Kart tracks are.
One arena had trampolines at the perimeters. Another had destructable pillars. Another had a destructable center that turned into a giant trampoline in the center. The characters are extremely well designed and destinct from one another. I just can't imagine this not being the Mario Kart team's "Splatoon" analog. I think the reason it's being slept on is because Nintendo made the stupid decision to introduce it alongside motion controls, only confirming that it can be used with a traditional controller later in a really understated way.
I don't believe we've seen even half the roster yet, I don't think we've seen all of the stages, and I don't think we've even seen all of the modes yet. There's an ominous arena that seems to imply that that the fighters in Arms are factory created to fight, which means this game has lore, which means there's probably a single player story mode. If my speculation that the entire Mario Kart team is working on this, and again everything about this game has their fingerprints on it, then this will probably be a very content-packed game.
The reception from people who have played it has been universally positive, with most saying that it's way deeper than they thought it was from the reveal. So all this leads me to believe that we are going to get a lot more information on this game leading up to itsn release, and that it is going to be a much bigger deal than people are thinking. It wasn't the first "game with depth" they showed for no reason. This is this year's Splatoon for them, and they're going to push it hard. I think.
Now, this thread isn't really about my opinions on Arms as a game, but what it represents for Nintendo. The thing to take away from here is that this is another big, new IP coming from one of Nintendo's A-teams. Whether this is successful or not isn't the point. The effort is. Nintendo has been criticized for not developing new IP very often. While most informed fans will tell you that this is not the case, Nintendo absolutely has had a problem with putting their money where their mouth is and actually investing heavily into these new IP.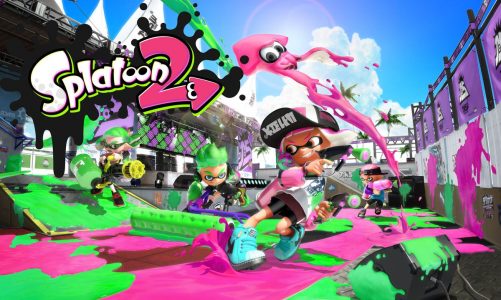 ---
What's so significant about Splatoon is that it's really the first time Nintendo did that in recent memory. It's a new IP that Nintendo treated the way it treats Mario or Zelda from a financial and production perspective, and it worked. I think Arms will be a similar story, which got me thinking. Is it really just two games?
Well, obviously not, or there wouldn't be a thread.
The first other example of this is Codename: STEAM. That was a game developed by Intelligent Systems, and I suspect that this game was worked on under the same mindset of Arms and Splatoon. Unfortunately, it didn't workout so well. Now there are obviously other situations. There are eshop games like Pushmo and Dillion, and there are bigger games like Xenoblade. To make a long story short, I think this this focus on investing assurtively on new IP didn't start until after those games game out. In other words, they were new IP, but they we're part of a new IP mandate like I suspect the prior example were.
So now onto the present. We have Splatoon as a success and Arms coming in the future. Great. Now what? Well I think that there are other studios working on new IP now, and some who will work on them in the new future. Let's start with what we know.
I'll make a prediction right here: the next game the Zelda team makes will be a new IP. This is kind of the crux that brought everything together for me. In a November interview with EDGE, Aonuma said this:
"Actually, Nintendo has been telling me to create a new IP. But then, they're also telling me to make more Zelda games. I can't really share much; I'm not sure I'm allowed to say anything. But I really like the idea of a game where I can live as a thief. That's all I'll say."
Now I can make a thread entirely on the exciting prospects of a new theif IP being made by the Zelda team, but that's not what this is about. The most important thing to take note of is what I bolded. Nintendo has been telling him to make a new IP. Company mandated. I'm willing to bet that this is how Splatoon and Codename: Steam came about. Something shifted in Nintendo, making them want to invest in new IP proactively.
---
Okay, that's all well and dandy. What else? Well we have the Mario Kart 8 team presumably working on Arms, the Animal Crossing team working on Splatoon 2, and the Zelda team possibly working on a new IP based on stealing shit. Who's left? Well first there's Retro Studios, and what do you know? They're already rumored to be working on a new IP alongside the infamous Yoshio Sakamoto.
Then there's, of course, Sakurai of Smash Bros. fame. He confirmed this past November that he was working on a new project. Now this is where the speculation comes in, and why I didn't want to do a full, investigative article on this. The rumor has been that there will be a new port of Super Smash Bros. coming to the Wii U. My thinking is, if he was involved with this port at all, it probably wasn't going to be the most time consuming thing - even if there are a few new characters.
Smash Wii U came out at the end of 2014. It's now 2017, and I can't imagine all of that time was spent just making DLC. I hope that some of that time was spent resting, he deserves it, but he's had a lot of time to invest in this other project of his, and my guess is that it's a Swich project based on a new IP, because that seems to fit the tone of Nintendo right now. I know that a lot of people want a new Kid Icarus game, but I think Nintendo is asking everyone of their big developers, save for a few, to make new IP.
So if I'm keeping track correctly, that's Splatoon 2, Arms, New Aonuma IP, New Retro IP, and new Sakurai IP. Anything else? I think there will be one more, and this is a complete and wild guess. I think the main Mario team will be working on a new IP. In fact, they're likely making it right now. Why? Well look at the Nintendo Switch as a platform for a second. What games are coming to it?
Well Wii U ports and sequels mostly. But what's interesting to me is the types of sequels and the specific Wii U ports. We have Mario Kart 8 Deluxe and the rumored Smash 4 port. Now I've gone on record saying that the special thing about these games is that they feel like the end goals of their respective franshises. Why does there need to be a new Mario Kart after this when Mario Kart 8 was so complete? What did Mario Kart 8 need? A better battle mode. Now it has that. The game looks beautiful, sounds amazing, has a great roster of racers, has great customization options, and has 48 tracks.
---
Literally all a new Mario Kart game could do at this point is add new tracks. Maybe a single player mode. Maybe a more new characters, but couldn't that stuff be added to this game as DLC? Same With Smash. They could add a more involved campaign, but that's really it. The game feels great and is jam packed with content. If Mario Kart 8 and Smash 4 are put on the Switch, why does the Switch need it's own variation of these games? The truth is that it doesn't. But I want to go a step further.
Breath of the Wild looks amazing, but the more I think about it, the more I wonder "how soon will I need a new Zelda after this?" Truthfully. If BotW is as good as it looks, will I really crave another Zelda so immediately? ALBW was amazing, and I still feel satiated when it comes to 2D Zelda. The reason I'm so hungry for another is because TP and SS left me hungry for something I don't think they provided - a modern feeling Zelda game. A game that feels like it was made for this era. Regardless of your feeling of the quality of those games, I think we can all agree that BotW feels modern in a way that those games didn't. It's open world, it has voice acting, it's orchestrated, and it's in HD. Will it be good? I hope, but it feels modern and it feel like Zelda can take a pause after that for a second. Maybe it won't, but it feels like it can.
Same with Mario. I loved SM3DW. I thought it was an incredibly made game. To go even further, I don't like what I see from Odyssey from a gameplay perspective. It looks like everything I didn't want Mario to become, but you know what? It feels like that modern Mario game. It feels like what most people want from a 2017 Mario game, and I suspect that, after I see more, I'll feel the same way about that game that I feel about BotW. That hunger for a "real 3D Mario" will be satiated, and because of that, that team will have the room and the time to make something new, and I think Nintendo actively wants them to.
Like I said before, I think they're working on it right now. Emily Rogers, who has been a recently reliable source of Nintendo news for a while now was convinved that the next 3D Mario game was so far along that it could have been a launch game. She implies that the game was ready well before the launch of the system. Let's assume that's the case for a moment. Think about all the time that team will have had to make something. By the time Odyssey comes out, it will have likely been at least a year since the game was finished and the team moved on to something else. And that's assuming that the only work on one game at a time. I think they've been working on a new IP.
To pull in the reins, though, obviously not everyone can be working on a new IP. Who do I think isn't? Well I don't think Miyamoto is, and I don't think that Tanabe is. Miyamoto was working on the new Pikmin, but even if that's finished, I think he has way too much on his plate to be working on something that would be so involved as making a new IP. As for Tanabe, I truly believe that he's working with someone on a new Metroid game for the Switch. I don't believe for a second that it's very far along, and I also don't believe that Retro is making it, as their relationship seems to have waned. I hate to go this far down the rumor hole, but the YouTuber Obe1Plays dropped a rumor that a new Metroid game is being developed by an "unexpected developer." I give his rumor stock because many of his other rumors have been validated, most notable of which was his leak that the Nintendo's online would be free "at launch." Not something many could have guessed. I'm taking "unexpected developer" to mean a 3rd party developer. I've voiced who I think that studio is, but this thread isn't about that. It's about new IP.
---
Why does this matter? Well if I'm totally right, that would mean that at least 6 new 1st party IP (including Splatoon 2) could find their way to the Switch, all with the marketing and financial backing that Nintendo normally only reserves for their biggest and most established franchises. That hasn't happened at all since Nintendo started with the NES, and that would color the Switch in a light most people haven't expected. I'm a proud critic of the original Splatoon, but I'd be disingenuous not to acknowledge how powerfully it resonated with a completely new age of fans, as well as old. That's what I think is the thing to take away from this. These new IP will be important for giving a new generation of kids their own era of Nintendo IP to associate with.
It's kind of like Disney and this new renaissance that they seem to be having. They had Brave and Tangled and Frozen, and now it's hard to keep up with all of the new IP they're creating. The most recent thing is Moana. I think that's what Nintendo has started to do with Splatoon, and what they how will happen with Arms and all their new IP going forward. I think they're trying to recaptivate a completely new audience with this new stuff, while trying to get back an older audience with the old stuff. In 20 years, Arms and Splatoon could very well be that generation's Smash and Mario Kart, and that's important because Nintendo can't just keep remaking those games. Eventually the tap will run dry, if it hasn't already. And that goes for Zelda and to a lesser extent Mario. Mickey Mouse is still the mascot of Disney, buy there's a reason you don't see him everywhere anymore.
We might be witnessing a sort of changing of the guard when it comes to Nintendo franchises, as new developers replace old ones. It's something Nintendo has been talking about doing for years, and it seems like that's finally really happening. Nintendo Switch may not be defined by Breath of the Wild and Mario Odyssey, but by Arms and Splatoon 2. By a cool Sakurai IP and a cool Retro IP. By a new game made by the Mario team, and by some theif game that is probably way cooler than it has any right being.