Florida Pulse gay club attacked in Orlando - multiple injuries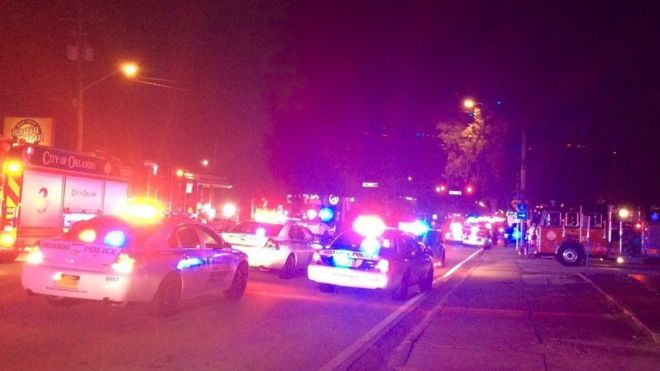 Image copyright
There are multiple injuries after an attacker opened fire inside a gay nightclub in the Florida city of Orlando, police say.
There are unconfirmed reports that the attacker is still inside the Pulse Club and has taken hostages.
Orlando Police have urged people to stay away from the area.
Video footage being shared on social media showed dozens of emergency vehicles at the scene and people being treated on the pavements.
One man who was in the club at the time said the shooter opened fire at around 02:00 local time (06:00 GMT).
"People on the dance floor and bar got down on the floor and some of us who were near the bar and back exit managed to go out through the outdoor area and just ran," Ricardo Almodovar wrote on Pulse's Facebook page.
Another man, Anthony Torres, said he heard people screaming that others in the nightclub were dead.
Local TV reporter Stewart Moore tweeted that he had been told by a source that more than 20 people had been shot.
He said the attacker was still inside the nightclub with hostages, and was feared to be wearing a bomb.


Edit: So it was an born USA citizen with Afghan roots (suspect). Called Omar Mateen. 50 people did not make it :(.
f you're in Orlando, OneBlood is in need of donations to help victims. Here's a list of donation centers.