Super Smash Bros. for Wii U is the best game of 2014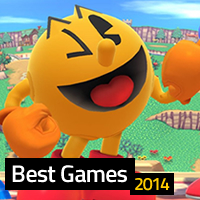 It appears that gaming's transition year has turned into transition years . The first full calendar year for next-generation consoles PS4 and Xbox One failed to spur the release of more than a handful of great games—and most of those high-scoring releases were merely re-releases of older titles for the new platforms.
For the second straight year, just 11 console games (representing 9 unique titles) scored 90 or higher. Of those, only three were new games rather than ports of previously released titles. Overall, there were just 1490+ releases in 2014 (see list at the bottom of this page), the lowest such total since 2006.
Even this year's highest-scoring new release—Nintendo's Super Smash Bros. for Wii U—had a significantly lower Metascore than previous Metacritic Game of the Year winners. Three other products actually surpassed Smash Bros.'s 92, but all three (including XB1 and PS4 versions of 2013's best game,Grand Theft Auto V, as well as a PS4 release of 2013's The Last of Us) were remastered ports of older titles, leaving Smash Bros. as the year's highest-scoringnew game.
Over the following pages, we'll reveal 2014's best-reviewed games for each individual platform. Before that, here's a quick look at how the various game platforms compared this year:
Best Wii U Exclusives, 2014
http://static.metacritic.com/images/features/_styles/module_head.gif) 0% 0% repeat-x #333333;" width="114">#1
http://static.metacritic.com/images/features/_styles/module_head.gif) 0% 0% repeat-x #333333;" width="114">#2
http://static.metacritic.com/images/features/_styles/module_head.gif) 0% 0% repeat-x #333333;" width="114">#3
http://static.metacritic.com/images/features/_styles/module_head.gif) 0% 0% repeat-x #333333;" width="114">#4
http://static.metacritic.com/images/features/_styles/module_head.gif) 0% 0% repeat-x #333333;" width="114">#5

92

91

88

83

82

Super Smash Bros. for Wii U
Nintendo

Bayonetta 2
Nintendo


Mario Kart 8
Nintendo

Donkey Kong Country: Tropical Freeze
Nintendo

Stealth Inc 2: A Game of Clones
Curve Digital

Best PlayStation Exclusives, 2014
http://static.metacritic.com/images/features/_styles/module_head.gif) 0% 0% repeat-x #333333;" width="114">#1
http://static.metacritic.com/images/features/_styles/module_head.gif) 0% 0% repeat-x #333333;" width="114">#2
http://static.metacritic.com/images/features/_styles/module_head.gif) 0% 0% repeat-x #333333;" width="114">#3
http://static.metacritic.com/images/features/_styles/module_head.gif) 0% 0% repeat-x #333333;" width="114">#4
http://static.metacritic.com/images/features/_styles/module_head.gif) 0% 0% repeat-x #333333;" width="114">#5

95

86

80

80

73

The Last of Us Remastered
Sony

Guilty Gear Xrd -SIGN-
Aksys


inFamous: Second Son
Sony

LittleBigPlanet 3
Sony

inFamous: First Light
Sony
Best Xbox Exclusives, 2014
http://static.metacritic.com/images/features/_styles/module_head.gif) 0% 0% repeat-x #333333;" width="114">#1
http://static.metacritic.com/images/features/_styles/module_head.gif) 0% 0% repeat-x #333333;" width="114">#2
http://static.metacritic.com/images/features/_styles/module_head.gif) 0% 0% repeat-x #333333;" width="114">#3
http://static.metacritic.com/images/features/_styles/module_head.gif) 0% 0% repeat-x #333333;" width="114">#4
http://static.metacritic.com/images/features/_styles/module_head.gif) 0% 0% repeat-x #333333;" width="114">#5

86

85

81

77

77

Forza Horizon 2
Microsoft

Halo: The Master Chief Collection
Microsoft


Sunset Overdrive
Microsoft

Fantasia: Music Evolved
Microsoft

D4: Dark Dreams Don't Die
Microsoft
Best PC Exclusives, 2014
http://static.metacritic.com/images/features/_styles/module_head.gif) 0% 0% repeat-x #333333;" width="114">#1
http://static.metacritic.com/images/features/_styles/module_head.gif) 0% 0% repeat-x #333333;" width="114">#2
http://static.metacritic.com/images/features/_styles/module_head.gif) 0% 0% repeat-x #333333;" width="114">#3
http://static.metacritic.com/images/features/_styles/module_head.gif) 0% 0% repeat-x #333333;" width="114">#4
http://static.metacritic.com/images/features/_styles/module_head.gif) 0% 0% repeat-x #333333;" width="114">#5

89

87

87

87

86

Out of the Park Baseball 15
Out of the Park Developments


World of Warcraft: Warlords of Draenor
Blizzard


The Talos Principle
Devolver Digital

Divinity: Original Sin
Larian Studios

Astebreed
More: http://www.metacritic.com/feature/best-video-games-of-2014