Hello people of VGChartz!
I've decided to revive this thread. The SELL is still providing the top 5 of Fench games sales and it's easy to have a quick look at the top now (scroll down to the middle of the homepage and click on each system's name to see its top 3). This way we'll know for good if France is a Nintendo or a Sony country.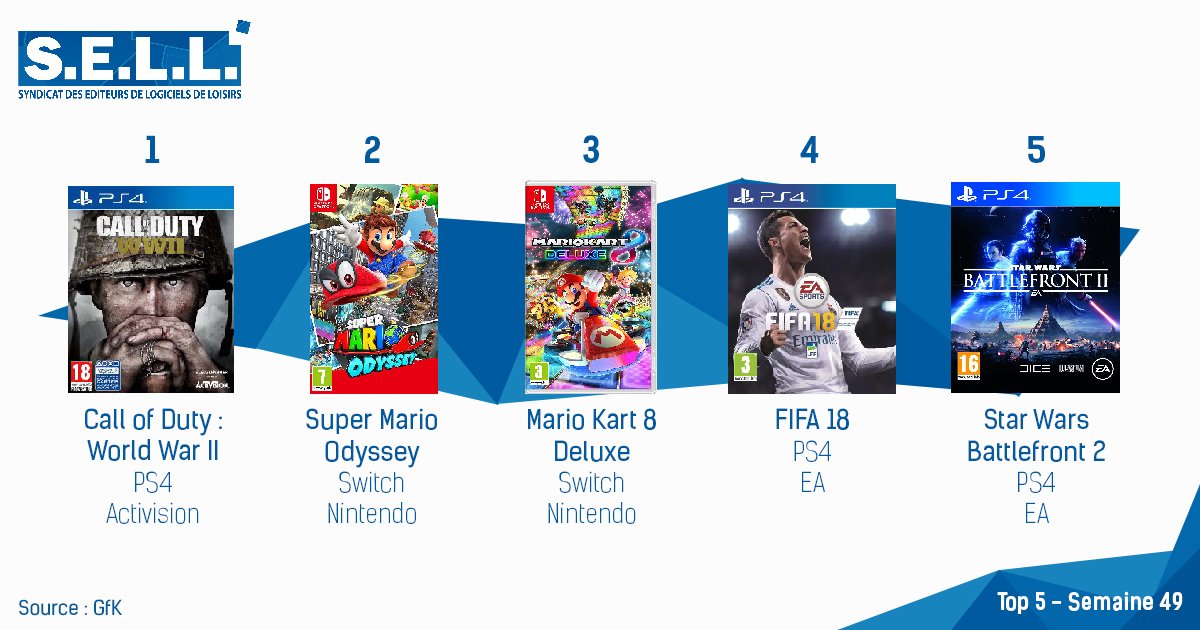 I've decided to add sales in Italia and Spain too, and plan to release the German chart when milestones are published.
via AESVI, ITALY weekly top
TOP 10 CONSOLE GAMES
Settimana dal 27/11/2017 al 03/12/2017
| | | | |
| --- | --- | --- | --- |
| Posizione | Titolo | Piattaforma | Editore |
| 1 | Call of Duty WW II | PS4 | Activision Blizzard |
| 2 | Fifa 18 | PS4 | Electronic Arts |
| 3 | Grand Turismo Sport | PS4 | Sony |
| 4 | Super Mario Odyssey | Nintendo Switch | Nintendo |
| 5 | Crash Bandicoot N.Sane Trilogy | PS4 | Activision Blizzard |
| 6 | Uncharted L'Eredità Perduta | PS4 | Sony |
| 7 | Horizon Zero Dawn | PS4 | Sony |
| 8 | GTA V Grand Theft Auto | PS4 | Rockstar Games |
| 9 | Snow Moto Racing Freedom | Nintendo Switch | Bigben Interactive |
| 10 | Pokemon Ultrasole | 3DS | Nintendo |
via AEVI, SPAIN monthly top November
| Posición | Código PEGI | Juego | Plataforma |
| --- | --- | --- | --- |
| 1 | | CALL OF DUTY WWII (INCL. EXCLUSIVE ED.) | PS4 |
| 2 | | FIFA 18 | PS4 |
| 3 | | UNCHARTED: EL LEGADO PERDIDO | PS4 |
| 4 | | ASSASSIN'S CREED: ORIGINS (INCL. EXCLUSIVE ED.) | PS4 |
| 5 | | POKEMON ULTRA SOL | NINTENDO 3DS |
| 6 | | SUPER MARIO ODYSSEY | SWITCH |
| 7 | | POKEMON ULTRA LUNA | NINTENDO 3DS |
| 8 | | GRAN TURISMO SPORT EDICION LIMITADA (INCL. EXCLUSIVE ED.) | PS4 |
| 9 | | GRAN TURISMO SPORT | PS4 |
| 10 | | STAR WARS: BATTLEFRONT II | PS4 |
Last edited by ryuzaki57 - on 18 December 2017