Share the article here.
Switch vs 3DS and Wii U Sales Comparison - Switch Lead Tops 10 Million in October 2020
This monthly series compares the aligned worldwide Nintendo Switch sales with the combined Nintendo 3DS and Nintendo Wii U sales.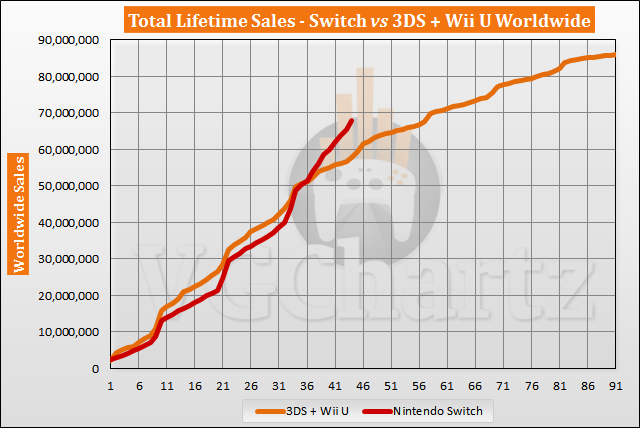 Switch Vs. 3DS and Wii U Global:
Gap change in latest month: 1,407,027 - Switch
Gap change over last 12 months: 14,155,000 – Switch
Total Lead: 10,131,367 - Switch
Switch Total Sales: 67,966,935
3DS and Wii U Total Sales: 57,835,568
October 2020 is the 44th month that the Nintendo Switch has been available for. During the latest month, the gap grew in favor of the Switch by 1.41 million units when compared to the combined sales of the 3DS and Wii U during the same timeframe. In the last 12 months, the gap has grown in favor of the Switch by 14.16 million units. The Switch leads by 10.13 million units.
The 3DS launched in February 2011 (however, 3DS sales have been aligned to March 2011, since it only launched at the end of February in Japan), the Wii U launched in November 2012, and the Nintendo Switch launched worldwide in March 2017. The holiday periods between the Switch and 3DS lineup, however, the Wii U holiday is offset from the Switch.
The 44th month for the Nintendo Switch is October 2020, for the Nintendo 3DS it is October 2014 and for the Wii U it is April 2016. The Switch has sold 67.97 million units, while the 3DS and Wii U have sold 57.84 million units during the same timeframe. The 3DS and Wii U did not reach current Switch sales until month 58.
The 3DS and Wii U have sold 89.38 million units lifetime through September 2020. The Switch is 21.41 million units behind the 3DS and Wii U. The Wii U has been off the market for several years only selling 13.56 million units lifetime, while the 3DS recently ended production and the few remaining stock units left in stock will likely be sold out by the end of the year.
VGChartz Sales Analyst and Writer - William D'Angelo - I stream on Twitch and have my own Youtube. Follow me on Twitter @TrunksWD.
Writer of the Gap Charts | Weekly Hardware Breakdown | Top 10 | Weekly Sales Analysis | Marketshare Features, as well as daily news on the Video Game Industry.