Nintendogamer said:
No motion plus? a bit late to make that plea, because Eiji has already put that feature in the game so, you will have to use motion plus wether you like it or not.

He said he wants WM+ to be bundled with the game not that he doesn't want it. ...(Cheapskate!)
I dissagree with the voice acting part though it would be cool to have other characters talk but please DON'T make link talk!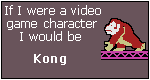 I am Kong.

Strong and passionate, I tend to be misunderstood, sometimes even feared. I don't want to fight, I don't want to cause trouble, all I ask is a little love, and a little peace. If I don't get what I want, I get angry, and throw barrels and flaming oil at whatever's stopping me. What Video Game Character Are You?