PullusPardus said:
mike_intellivision said:
The previews on this have not been very exciting -- essentially saying it is not much more than a recycled game.

If I were a PS3 owner and still had access to a PS2, I think I would go with the originals. I wonder if we would have seen this title had B/C been maintained.

(I also wonder, given how many PS2 --> Wii ports there are, why Namco has not put this series on Nintendo's console in some way, shape or form. And they have some idea how to do motion controls since there is an iPhone version).

Mike from Morgantown

this game uses both analogs.
the wii mote doesn't have two analogs. well thats what i can think of really.
True -- I have both PS2 games and love the tank-like controls (http://en.wikipedia.org/wiki/Tank_(arcade_game)).
But you can accomplish something similar with tilting motions -- as Namco has done with the iPhone version (which I have demoed).
So it may really just be a development choice -- though one that probably has a company leaving money on the table.
Mike from Morgantown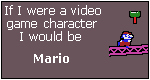 I am Mario.


I like to jump around, and would lead a fairly serene and aimless existence if it weren't for my friends always getting into trouble. I love to help out, even when it puts me at risk. I seem to make friends with people who just can't stay out of trouble.

Wii Friend Code: 1624 6601 1126 1492

NNID: Mike_INTV