looks like the new character is :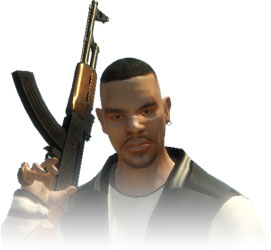 LUIS FERNANDO LOPEZ
Voiced by Mario D'Leon.
Luis Fernando Lopez, the game's protagonist, is a 25-year-old Northwood resident of Dominican descent. Luis works as a bodyguard for Tony Prince (aka "Gay Tony") and also works as a doorman at Prince's nightclubs Maisonette 9 and Hercules in Lower Algonquin. Luis has links with a Northwood-based drug gang that includes Willy Valerio and the Gomez brothers, and is known to be involved in the illegal street fighting scene.
and these are the new screenshots