http://rpgmonkey.blogspot.com/
Graces (interview with Baba)
-The game is a compilation of his work so far.
-Possibly the longest game in the series, his guess is 60-70 hours
-He was surprised at the battles.
I also have this one scan of ToG:
http://i268.photobucket.com/albums/jj18/Rpgmonkey01/aorr2gll_1.jpg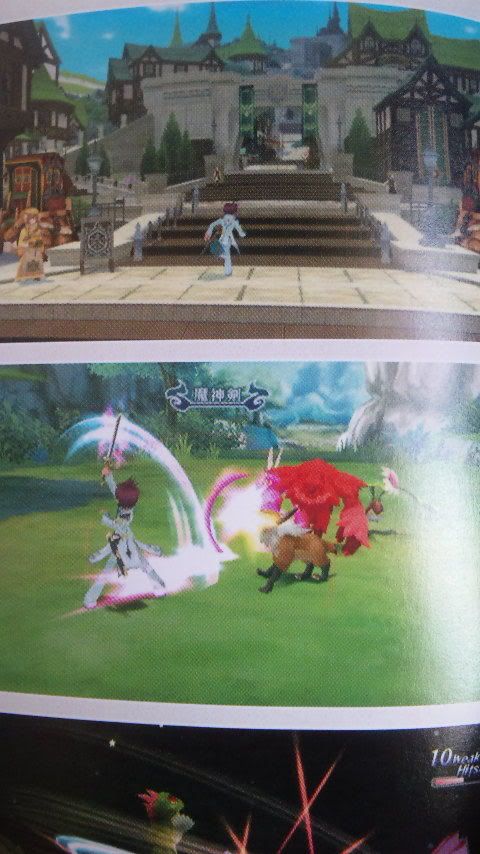 There's a more detailed profile of Asbel, I'll put it up later.

Asbel Lhant
Age: 18
Gender: Male
Height: 175cm
Weight: 65kg
Class: Knight
Born as the eldest son of Aston, the Lord of the Lhant territory, which is located in a border zone between Windol's border and its neighboring country, Fendel. He was raised since he was at a young age by people like his father and is butler Frederick, taught so that he would be prepared to be the future Lord.
However, Asbel strongly holds thoughts of becoming a knight. After a certain event, he decided to enter into the Knight Training Academy in the capital, where he spent his life earnestly devoted to his training、and soon he accomplished his growth into a diligent and polite young swordsman. 
As a child he was cheerful, openhearted, and honest. As he grew he transformed intot he type who hides his enthusiasm within. He often takes care of other people, and can't turn away from someone in front of him who's in trouble.
---

Longest Tales game, yes please! :D Also, Asbel has a butler...clearly the butler will be the final boss :P Also, it seems Asbel isn't going to be the naive or pussy or laid back type character in Tales games (I liked laid back ones though :3).