Third-party development for the Nintendo Wii consoles has produced somewhat mixed results. H
But at least we get a different reason for this each year.
2006 -- The Revolution (Wii) will never sell. It is going to be a distant third. Nintendo should stick to handhelds.
2007 -- The Wii is a fad. It will stop selling soon.
2008 -- Sure, there are a lot of Wiis. But no one is playing them. And they only buy Nintendo software. Third-party software does not sell well on that console.
This pattern will continue until its unfortuate end.
2009 -- Our efforts have not sold at the level we think they should, which proves that Wii owners only want mini-game collections and other junk that true gamers would never play. In other words, the Wii can't sell "hardcore games." (Editor's note -- the company's do not mention that their games were underpublicized and/or of questionable quality),
2010 -- At this point in the console cycle, all of our resources have been expended in our support for the HD-capable consoles. For us to retool when new consoles are going to soon be making it into the marketplace would be folly, especially in these economic times. (Editor's note -- sales of many companies HD-capable games have been mixed and not always produced profits).
2011 -- We cannot develop games for the Wii or its successor -- or any console. We are going out of business. (Editor's note -- should have developed for the Wii).
OK, the last editorial comment is a bit less than being nice. But I can see all of this happening.
Mike from Morgantown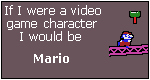 I am Mario.


I like to jump around, and would lead a fairly serene and aimless existence if it weren't for my friends always getting into trouble. I love to help out, even when it puts me at risk. I seem to make friends with people who just can't stay out of trouble.

Wii Friend Code: 1624 6601 1126 1492

NNID: Mike_INTV