I remember the first time I saw the Nintendo console. My thought was … "What the heck is this thing?"
After all, the unit looked like a toy and was marketed like a toy. The controller was very different than anything that had come before. Its game selection appealed toward a younger audience and lacked the current and continued hits, and it seemed to emphasize gimmicks with a variety of add-ons.
Over time though, I grew to understand what the system was all about … and I eventually got one for myself. Of course, I am talking about the Nintendo Entertainment System which sold only over 60 million units worldwide as it redefined, reinvented, and revitalized video gaming (particularly in the United States).
But it was so much different than what had come before. No joystick (the preferred controller of the previous era), no real space shooters or arcade classics in the early line-up (the dominant genre of the previous era), unusual things like a light gun (sounds familiar) and ROB (not as successful commercially but now a collector's item). And the graphics were not really all that much better from the top-end systems of the previous era (the NES early games were more colorful but not really that much better than Atari 5200 (8-bit computer) or Colecovision (similar to MSX) games.
Still, if you were a 20-something in the mid-1980s and wanted the game from the company whose system you had backed (by Atari or Coleco or even Mattel), seeing this in the stores was a shock.
Now admittedly, today is a little bit different. There are actually other active console makers (which there really was not by that time. Atari was doing computers, Coleco went under, Mattel sold out, and Magnavox had gotten out). Nevertheless, the reaction to the Wii – and its success – is still the same. So contrary to what some may think – Nintendo did not and "ruin" gaming and is not "ruining" gaming. It is merely starting the next evolution in gaming.
Mike from Morgantown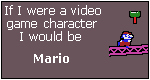 I am Mario.


I like to jump around, and would lead a fairly serene and aimless existence if it weren't for my friends always getting into trouble. I love to help out, even when it puts me at risk. I seem to make friends with people who just can't stay out of trouble.

Wii Friend Code: 1624 6601 1126 1492

NNID: Mike_INTV