The video game market in Eastern Europe is currently fairly small, but could potentially become quite a bit bigger as the former Eastern Bloc countries' economies become more in line with other EU countries. Anyway, I'm interested in how big the current console market is, so if anyone has any sales figures, please post. I've never seen any numbers from sales trackers, so the numbers here will mainly be manufacturer's sold to retailers figures.
To start off some Polish data.
Through March 2008:
LTD:
PS3: 30k*
*SCE Poland forecast in February 08
2007 YTD:
PS2: 100k*
PS3: 20k+
*SCE Poland forecast in October 07
Through September 2007:
LTD:
PS2: 550k-600k*
360: 20k
Wii: 10k
PS3: 10k
*20% of these are estimated to be unofficial grey imports, so around 440k-480k originally sold in Poland.
Link
Link
Here we can see the growth in Polish software sales for Sony consoles between 2002 and 2007. We have
PS One & PS2 in 2002, and PS2 & PSP for 2007.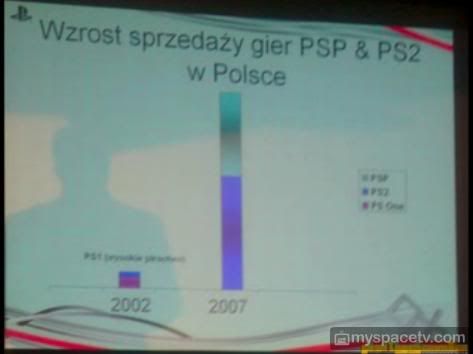 That's all I have for now, if anyone has data for other countries, please post. By Eastern Europe I'm referring to the former communist countries, so what some would consider Central European such as Czech Republic should be considered Eastern European for the purposes of this thread.