!!!!!!!!!!!!!!!!!!!!!!SPOILERS FOR ANYBODY NOT UP TO DATE WITH THE SERIES!!!!!!!!!!!!!!!!!!!!!!!!!!!!!!!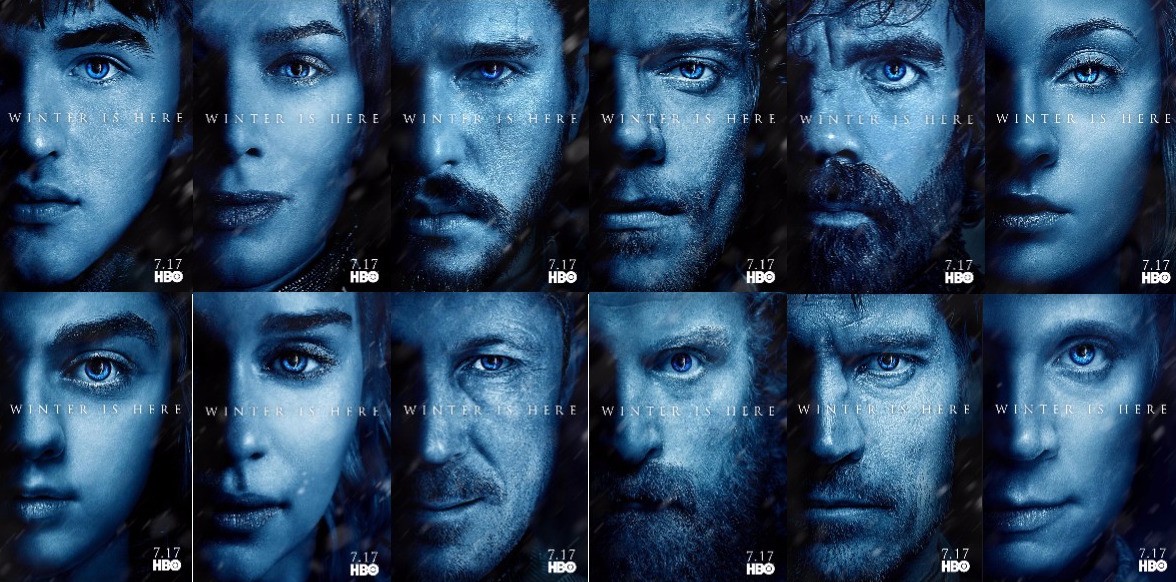 SEASON 7 VGC AVERAGE RATINGs and IMBd ratings after 1 week

| | | |
| --- | --- | --- |
| EPISODE 1- DRAGONSTONE | 7.2 (285 VOTES) | IMDb 8.7 (21k+ votes) |
| EPISODE 2- STORMBORN | 7.8 (232 votes) | IMDb 9.1 (14k votes) |
| EPISODE 3- THE QUEENS JUSTICE | 8.4 (284 votes) | IMDb 9.4 (16k votes) |
| EPISODE 4- THE SPOILS OF WAR | 9.0 (189 votes) | IMDb 9.9 (42k votes) |
| EPISODE 5-EASTWATCH | 8.0 (205 votes) | IMDb 9.1 (19k votes) |
| EPISODE 6-BEYOND THE WALL | 7.8 (172 votes) | IMDb 9.3 (33k votes) |
| EPISODE 7- THE DRAGON AND THE WOLF | | |
Season 7 is upon us and the hype is real the end is close so we can expect alot to happen in what is supposed to be the penultimate season. Paths will cross, story arcs will close and suprise deaths will shock us.
Who will be watching it and what do you think/hope to see happen?

Major things we know so far:

**Jon Snow is half Tagearyan and Daenarys's Nephew, he has a ligimate claim to the throne and the dragons could well take to him.
**Bran is the Only person who knows of Jon Snows heritage, hes clearly going to have a p[art to play.
**Cersei is now childless, shes going to be changed, shes also the first Queen ruler of the 7 kingdoms now
**Daenarys is sailing and her army is Hugeconsisting of Dothraki, Unsullied, Theon and Yara with use greyjoys ships/troops, Dorne's navy along with the sandsnakes, House Tyrell with their navy and lets not forget 3 big DRAGONS.
**Tyrian /(great character) is Hand of the Queen to Daenarys, finally gets a justified title.
**Sansa seems happy about jon Snow but there was that shot of her looking at Little Finger who is trying to convince her SHE should be queen and he also wants to be KING on the iron throne with her by his side. Little finger in very clever and very convincing.
**Arya stark ia finally back in westeros and is on the war path, already cross frey off her hitlist, she's bound to cross with Jon and Sansa.
**The WhiteWalkers are on the march and they are badass as FOOK! the main threat and the only thing that should matter is the defence of westeros against these badasses but will anybody believe Jon Snow who has seriously got to get the message to every corner of westeros.
**Samwell Tarley has another Valerian steel sword and now has the knowledge of the citaldel, hes going to have an important part to play
**Benjen Stark is still alive (sort of) he was cured from becoming a whitewalker by being stabbed in the heart with dragonglass (ironically that is what started the whitewalkers originally) surley hes got more to play.
**Euron definitely has something up his sleeve and could prove a big thorn in Daenarys's side.
PSN ID: Stokesy
Add me if you want but let me know youre from this website