2017 will mark a new Era for Konami Amusement Co. Formerly known as Konami Entertainment Co.

Konami Amusement Co. prepares to take it's first steps to re-emerge as an entertainment behemoth. Soon the fine line between film and video games will begin to blur as Konami Amusement rebrands itself as a film and gaming entertainment company. At Konami Amusement we take great pride in our rich characters and expansive stories. Today we are proud to announce that many of our beloved video games will soon reach a wider audience as we adapt and fortify our franchise in multiple media formats. In the near future our core audience will be enjoy a single unified canon weather they wish to escape within the Metal Gear Solid film or work together to battle their way though the enemy lines in the 6th chapter of the Metal Gear Solid video game Saga. In addition to the Metal Gear universe, Castlevania will soon see the release of a new title along with the launch of the new animated Netflix series. There's never been a more exciting time than now to be a Konami fan.


Metal Gear Solid: Genome Fraction (2018)




Summer 2018 will see the launch of the first Blockbuster in the Metal Gear Solid saga. Taking place between MGS and MGS2: Sons of Liberty in the Metal Gear timeline. Ex-FOXHOUND agent Solid Snake is wanted and on the run. Labeled as a terrorist, Solid Snake and Hal Emmerich form an alliance in the vow to never allow the use or creation of Weapons of Mass Destruction on a global scale. Together with their shared philosophies they form The Philanthropy as they uncover an emerging group in possession of a new Metal Gear proto-type and a terrible agenda with a deadly chemical weapon. Audience will be left on the edge of their seats with every twist and turn and game fans will have a few major unexpected surprises in Metal Gear Solid: Genome Fraction. Directed by Jordan Vogt-Roberts.


Metal Gear Solid 3: Snake Eater ReLoaded (Q1 2018)





In preparation of the latest chapter in the Metal Gear Solid saga comes the opportunity to let fans re-visit the Cobra Unit before rolling the clock back once more to the event that started it all. Whether you've played Metal Gear Solid 3: Snake Eater a dozen times or playing it for the very first time; Metal Gear Solid 3: Snake Eater ReLoaded offers a fresh experience on a classic story that remains untouched. Players will explore the vast Soviet jungles with new expanded and enlarged areas for players to hunt, set up ambush, and explore as they tackle "Operation Snake Eater". Snake Eater ReLoaded has been tweaked and reimagine to fit modern gameplay while staying true to its original vision and design. Players will truly feel the thrill of Guriella Warefare in early 2018 on PS4, PS4-Pro, Xbox One, Xbox Scorpio, and Nintendo Switch video game systems.
* Nintendo Switch NeXus Supplemental Computing Device add-on is required to play Metal Gear Solid 3: Snake Eater ReLoaded on the Nintendo Switch video game system. Sold separately.

Metal Gear Solid 6: Death Stranding (TBD)




The next installment of the Metal Gear Solid saga will be unlike anything fans have ever experience before. Vice President of Konami Amusement Co. Hideo Kojima will resurface upon the grand announcement of the true identity of Death Stranding with the revelation of the next chapter in the Metal Gear Solid saga. Fans will experience war in a new light as they experience the true terrors of the greatest historical horror ever experienced in human history. A world of fear, loss, and anxiety will ache at the player as the clock rolls back to 1942 with the formation of the Cobra Unit and a world at war. Players will witness the fall of the Philosophers, the birth Ocelot and the impact that loss had on a young and charismatic woman who leads a group against the Axis of Evil. Metal Gear Solid 6: Death Stranding is a story of love, a story about the fear of loss and the loss of hope, and a story of the death of an era of peace. Metal Gear Solid 6: Death Stranding will offer an all new Co-Op gameplay mechanic where players can band together as members of the Cobra Unit and work together to tackle various missions with an online community over the PlayStation Network. Thanks to the Decima Engine Metal Gear Solid 6: Death Stranding features an all star Hollywood cast as the Cobra Unit featuring Blake Lively as Lisa "The Joy", Mads Mikkelsen as Michael "The Sorrow", Kevin Durand as Hank "The Fear", Norman Reedus as Boris "The Fury", Ron Pearlman as Claude "The Pain", and Patrick Stuart as Vladimir "The End". Fans can expect Death Stranding to be the largest and most exciting Metal Gear Solid game to date as the saga comes full circle.
* A PSN subscription may be required for access of online features.

Metal Gear: Survive (Fall 2017)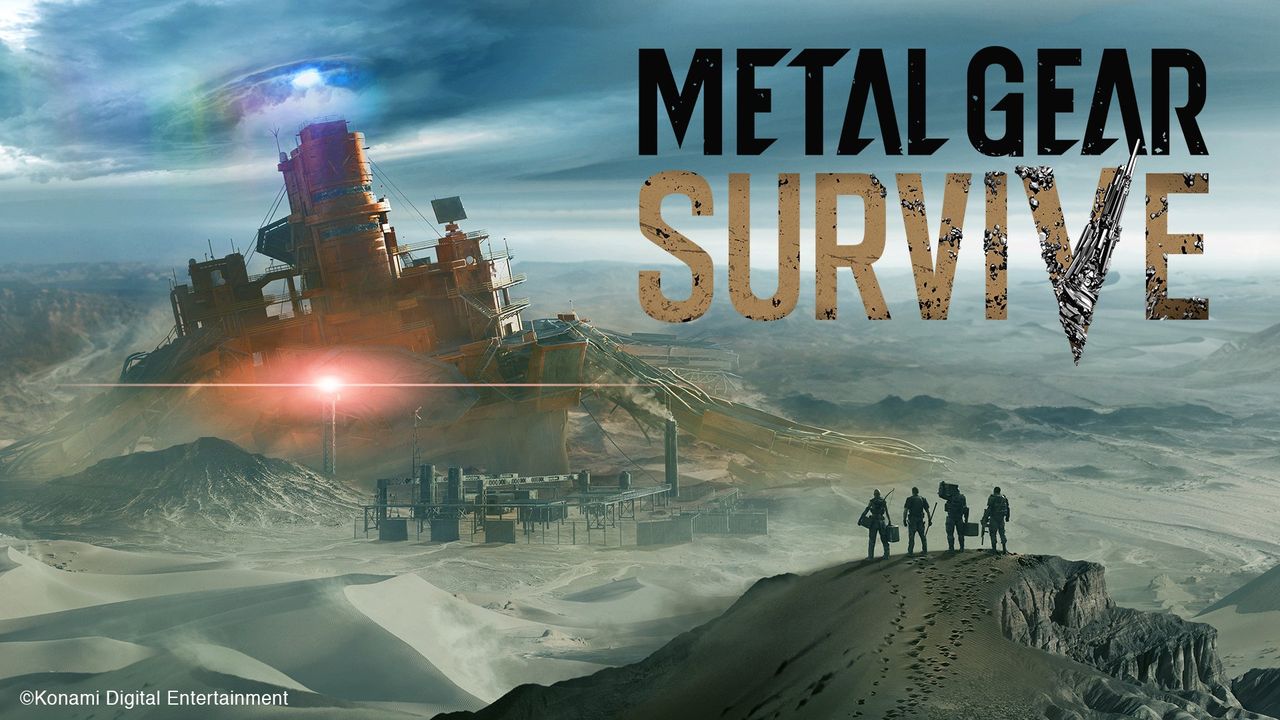 Metal Gear: Survive is a survival co-op based spin off title with a twist that serves as a bridge to Metal Gear Solid 6: Death Stranding. The Mother Base has been destroyed during the events of Metal Gear Solid V: Ground Zeroes and now a group of Mother Base survivors are sucked into a singularity and must work together to survive in an alternate dimension that was the result of a twisted WWII Axis-Controlled experiment gone wrong. Metal Gear Survive will bridge two eras in an unique fashion and offer a twist that will please long time Metal Gear fans. Players will need to band together with their friends if they have any hope to survive this new nightmare. Survive or Die this Fall.

Metal Gear Solid: The Twin Snakes (Switch VC HD)





With the launch of the Nintendo VC HD service this summer, Konami Amusement Co. is happy to announce the development of Metal Gear Solid: The Twin Snakes (VC HD Edition). Fans will once again get suit up as they sneak through Shadow Moses Island in this glorious high definition port. Players will once again sneak in the shoes of Solid Snake as they take on the ill-fated terrorist known as Liquid Snake who threatens to launch a nuke unless his demands are met. Equipped with nothing but a sneaking suit, Solid Snake has 24 hours to stop a madman, save the girl, and prevent a nuclear disaster. Metal Gear Solid: The Twin Snakes (VC HD Edition) will launch this summer for $19.99 USD.

Castlevania: Requiem of the Shadows (2019)





The latest title in of the Castlevania series will deliver an exciting new twist to the world best selling gothic horror franchise. Players will engage an all new original and horrifying Vampire slaying epic as they join an all new cast featuring some of Hollywood's most talented actors brought to life in a way only possible with the bleeding edge Decima Engine. Castlevania: Requiem of the Shadows will launch exclusively in 2019 on Xbox One and Xbox Scorpio entertainment systems. Castlevania: Requiem of the Shadows will take full advantage of the Xbox Scorpio entertainment system in order to offer fans the best 4k cinematic experience ever seen.


Castlevania Netflix Animated Series (2017)




Konami Amusement Co. and Netflix, Inc. is proud to announce a new era of partnerships with the Castlevania Animated Series. Fans will be able to join the last surviving member of the Belmont family as he attempts to stop the sinister Vlad Dracula Tepe's hunger from driving Eastern Europe into extinction. Castlevania Season 1 aims to be a hyper-violent featured animation aimed at adult audiences is planned for a holiday 2017 release.

Bomberman:




Bomberman's future has never looked so bombtastic. In 2017 with the Launch of the Nintendo Switch we launched the latest titled in the Bomberverse titled Super Bomberman R. We are happy to announce that new DLC will be released for Super Bomberman R for the Nintendo Switch video game console at no additional costs. Our relationship with Nintendo has never been stronger than it is today and we are happy to announce with the launch of the Nintendo Switch Virtual Console HD in Summer 2017 we will be releasing both "Bomberman 64" and "Bomberman Hero" in HD at $14.99 USD each.

Source: MyUncleWhoWorkedForKonamiButNowWorksForNintendo