Ruler said:
Shadow1980 said:
The GameCube had decent third-party support, but it fell way short of the PS2 in that regard, and even the Xbox had better third-party suport than the GC. The likely culprit? The little guy on the left here: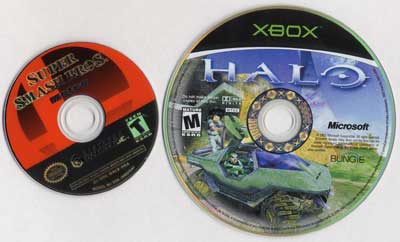 With less than one-third the capacity of even a single-sided single-layer DVD (1.5GB vs. 4.7GB), the GC's proprietary miniDVD format didn't do the system any favors. Now, I know there's all the "Well, they could have just split the game across multiple discs" talk, and sure, there's been plenty of multi-disc games before and after, but A) they weren't exactly common, B) some games probably couldn't get split across multiple discs as they take place in a single contiguous environment (think GTA), and C) I honestly doubt that anybody really wanted to split their games across multiple discs and usually only did so when it was necessary (even CD's 700MB capacity was not enough for many PS1 games; it was just a hell of sight better than the 64MB that the biggest N64 carts could hold, plus CDs cost a lot less to make). Not only is it extra work to split just one port up into multiple discs, but it also incurs greater expense (you're talking about an extra dollar or two per copy in manufacturing costs, which does add up). While a handful of publishers felt it was worth it for at least some titles, many major third-party games that came to PS2 and Xbox were no-shows on the GameCube, and the non-standard format is the only plausible explanation why.
Not true at all multiple CDs werent a big deal at the time, PC games like Doom 3 even launched with multiple installatio Discs much more than any gamecube game had



Multiple discs were not that big of a deal, but when you are developing multiplatform games and in one environment, everything can fit on one disc, while in another you have to split the game across at least two, which also adds to cost because the multiple mini discs (which were specially designed so that they couldn't be copied by pirates as easily as PS1 and Dreamcast discs were in the past) and the packaging to contain them isn't exactly free, you have to ask which would you as a publisher that wants to get the most money back without spending a lot as possible work on.
The GC mini discs were the EXACT same problem the N64 had just with a different medium. By the time the Wii rolled around Nintendo had finally gotten to DVD type discs when everyone else went on to a higher standard with more room again. Combine that with lower specs, lack of online infrastructure and motion controls as the standard they burned a number of bridges, especially as PC style and Western developement started to come to the forefront.
The because the GC was more powerful then the PS2, perhaps if it had gotten off to a better lead it might have done better, but the rise and fall of the Wii and the middle tier of Japanese development in general shows that the industry was going one way and Nintendo was unlikely to make that change at a quick enough pace that they still wouldn't have seen the same problems we see them facing now. The problem isn't the GC design principal of trying to make it 3rd party friendly, ALL consoles should have such a design principal, the problem is that Nintendo went about it in one way design wise of the console and in another factor did something that made it harder for developers to make titles on multiple systems.
Heck one can say that SINCE the N64, Nintendo has always made home console devices where the storage medium and the main controller have made it more difficult for multiplatform games to be made.