This saturday 01/10/15 @ 7:00pm EST join TiC & Ken Lobb to hear about Scalebound, Phantom dust & more on Youtube. RT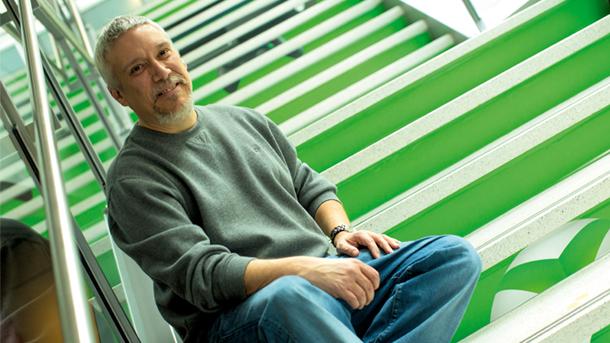 This saturday 01/10/15 @ 7:00pm EST join TiC & Ken Lobb to hear about Scalebound, Phantom dust & more on Youtube. RT pic.twitter.com/LF1o06qJg7

— The Premier Xbox Podcast in 2077 (@TiC_Podcast) January 7, 2015
https://www.youtube.com/watch?v=8JXs7HVXXmk&list=PLSiEj3991sxA5MPSs3C_e0Ny-AqWbTLku
Phantom Dust was announced last year at E3, a remake of the post apocalyptic third person adventure-strategy game which hit the original Xbox in Japan back in 2004.

The announcement of Phantom Dust left a lot of people scratching their heads, before frantically hammering the name into Wikipedia for more information. Phantom Dust was never released in the EU, and suffered a low-key launch in the US. Despite it's obscurity, Phantom Dust enjoys a strong cult following and has quite broad critical praise for its mechanics and systems, which are regarded as being ahead of it's time.

Our partners at TiC Podcast bought up the game to Microsoft Studios Creative Director Ken Lobb in their latest show.

Describing the previous game, Ken Lobb said he didn't see eye to eye with the original developers, describing the game as 'way ahead of its time'. Phantom Dust's card-based strategy combat was wrapped around a full blown JRPG, and accessing this aspect of the game took several hours. "It was a trading card game based arena combat game (...) but it had a full on JRPG to unlock the cards. It had one really big flaw - if you started playing this game you had no idea it was an arena game until you played 3-6 hours depending on how fast you went."

Ken Lobb emphasised that they want to tell the game's story better, which sees humanity hiding under ground from a mysterious apocalypse, whilst Esper's (humans granted psychic powers by the apocalypse) venture above the ground in attempts to discover humanities lost history.

"The core of 'why Phantom Dust' it's because this game is better than it was rated. Its way better than it was treated, except by the people who really got into it."

Ken credited Phil Spencer with Phantom Dust's return, stating that the decision to revive it was based on the games uniqueness, and the simple fact 'not enough people got to see' the game. Phantom Dust would also serve to diversify the Xbox's portfolio beyond its shooter image.

Regarding launch dates, Ken said it 'may or may not arrive in 2015' based on the games development, but also that it wouldn't be fair to shoehorn it in to what is Microsoft regard as a very strong 2015 line up.

Podcast host KoR X Kal El asked whether or not Phantom Dust was pure PVP, Ken Lobb had this to say: "No no no, it's a JRPG. It's about a 30 hour RPG. Through that, you unlock the cards. (...) We want people playing PVP before 6 hours, and we want them to have viable decks without having to wait 15 hours. A lot of the discussion is how do we front load a little of the multiplayer side without breaking the beautiful unlock that was so well designed in the original RPG."

It certainly sounds like it has the potential to be the JRPG that many people are clamouring for. I'm going to try and get a copy of the original somehow.

Be sure to listen to the full podcast, and subscribe to TiC Podcast on YouTube and follow them on Twitter!
http://www.xboxmad.net/x/phantom-dust-30-hour-jrpg.html
Scalebound, the next major release from Platinum Games, will feature a massive world and dragon companions. In an interview with our partners at The Inner Circle Podcast, Ken Lobb stated that Platinum approached Microsoft two years ago and pitched the game to them. They wanted to partner with a major Western studio in order to expand their audience. Lobb added, "Scalebound combines the best of what Platinum does and what we do".

He also confirmed that dragons would play a major part in the game and would not be adversaries. Lobb stated that "the dragons in Scalebound are companions and they are awesome". When asked about the scope of the game, Lobb said that it was a major "AAA title" that would have its own space. The game "might or might not release in 2015" because Microsoft already has a packed schedule this holiday season.

Lobb is a creative director at Microsoft Studios and known for creating the Killer Instinct series. Platinum Games have developed some of the best action titles ever including Bayonetta, Bayonetta 2, Vanquish, and Metal Gear Rising: Revengeance. Hideki Kamiya is also working on Scalebound. Kamiya previously developed games like Devil May Cry and Resident Evil. His stories and sense of direction are superb and the Microsoft exclusive will only benefit from having him in charge.

Lobb told The Inner Circle Podcast that Scalebound gameplay should be out this year. This is definitely one to keep an eye out for because it is a very unique collaboration. Stay tuned to XboxMAD and The Inner Circle Podcast for more information on this game as soon as it is available.
http://www.xboxmad.net/x/scalebound-dragon-companions.html
TiC Podcast didn't shy from putting the burning questions to Microsoft Studios Creative Director regarding Killer Instinct. Host KoR x Kal El asked Kenn Lobb about Killer Instinct's modular pay model, it's longevity and it's season based development cycle.

"(...) Do you see Killer Instinct continuing to grow for the entire life cycle of the Xbox One, have you or Iron Galaxy thought of recreating the original K.I. stages? Will fatalities make a return in season 3? and in light of Street Fighter V being exclusive, die hard fans like Raymond Franklin want Microsoft to market K.I. beyond Xbox One, like on Prime Time TV - is that in the plans?"

Regarding Killer Instinct's season based model (which sees fighter packs and features arrive as DLC), Ken Lobb said that Microsoft wished to do something differently with K.I.: "When you think about what fighting games have been, there's nothing with it - but the idea that you change a fighting game a little and release it again? it felt like we could do something a little different with Killer Instinct." So don't expect any Killer Instinct Ultra EX Alpha Tag Tournament Extreme SKU's from Microsoft Studios.

Ken Lobb elaborated further to say that he tends to stick to one or two characters whilst playing Tekken and Soul Calibre and other fighting games, so why not allow players to purchase one character and still have access to play online? The modular design also allowed them to ship the game 'early' and take consumer feedback regarding balance and so on to improve the game.

Regarding marketing, Ken Lobb said "the reason that people buy games have changed dramatically", elaborating further he described the current marketing situation for gaming, that being YouTube and Twitch, essentially word of mouth and information sharing is just as effective as 'call to action' product shorts on TV. Ken Lobb said that Killer Instinct has seen millions of players try the game due to the freemium model, and that TV wouldn't necessarily help that along. Microsoft likely has data to corroborate this, and often utilizes big data to determine marketing practices. Ken also didn't rule out further retail releases for Season 2, perhaps via an updated bundle with Season 1.

On fatalities, Ken Lobb said that they were perhaps a bit too 'comedic'. "Fatalities in the original Killer Instinct were arguably a little too comedic." Also stating that the humiliations were a side project "late at night", rather than a core feature. "Like a lot of our games, I'm very passionate about what we do and don't do with our games - but the reality is I don't tell the people that work for me what to do. I have 'passioned discussions about what I think they should be doing." He fell short of stating explicitly whether or not they would return, but perhaps if fans continue to let their opinions heard the developers will be willing to discuss their inclusion.

Ken also offered some insight on the Double Helix acquisition on the part of Amazon, amongst some interesting bits of history from the development on the first games. I urge you to listen to the full podcast below, and be sure to subscribe to TiC Podcast.
http://www.xboxmad.net/x/ken-lobb-discusses-the-future-of-killer-instinct.html