Fire Emblem Themed Mafia Sign-up Thread
Mafia is a classic party game and an off-shoot of Werewolf. Each player in the game is assigned a role which is part of a team and they do their best to see that their team wins.
The two teams are: Townsfolk and Mafia.
The game is separated into Day and Night. During the Day, the Townsfolk votes to (hopefully) lynch a Mafia member meanwhile the Mafia pretend to be Townsfolk and try to lynch innocent people. During the night, the Mafia side choose to kill one person and get themselves closer to winning. There may also be additional teams; you will recieve specific instructions if you are in one.
In this game, everyone will be assigned a video game character. Their role will be derived from that character, though it shouldn't be obvious which faction each belongs to. Every player will therefore have a special role; no one will be a vanilla Townie.
Goals
The Townsfolk win when all the Mafia are dead.
The Mafia win when they outnumber (or equal) the Townsfolk and the other faction of Mafia is dead.


How to Sign-up & Play
Post your name in the list below.
When the "Fire Emblem Mafia - Game Thread" is made, you will receive a PM with a "Role Card" explaining your roles' abilities, if any.
Post once in the game thread to "confirm" that you're still playing.
After I post "Day 1 begin" you may begin accusing people and chatting.


Sample Role Cards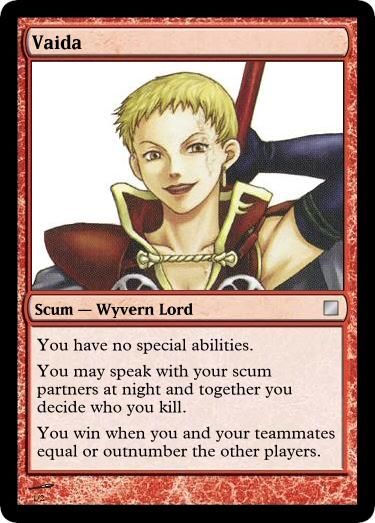 Misc. Rules
Do not talk about the game outside of the game thread unless your role allows it (i.e. Mafia).

Do not post your role PM or role card. Doing so will mean instant mod-kill.
Do not talk (post) after night falls.
Do not talk after you've been killed, lynched, or otherwise discombobulated.
If you do not PM me with your night action within a reasonable time period, I will randomly decide it for you.
Leave friendships at the door, pick them up on the way out.
Don't take the game too seriously, remember it's all just for fun.
Signup List
Replacement List
1. Dgc1808
2. TruckOSaurus
We need more players. Please sign up!