31156 posts since 07/12/12
Post your predictions of First Week Sales Here (Japan)!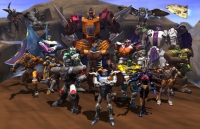 13472 posts since 14/11/12
When the herd loses its way, the shepard must kill the bull that leads them astray.
3122 posts since 28/02/13
over 100 k easily (hopefully). I'd say around 115-130 k


3397 posts since 16/05/13
250k, (maybe 300).
wii party U moved some wii Us, also, its a big game, also is ending of year(sales are naturally bigger).


975 posts since 29/07/07
ktay95 said:
why Japan only?
I will go with 150k
Japan numbers are usually more reliable, i think.
My educated guess is:
320 000

4159 posts since 01/08/07
210K


According to a new study; YouTube, Xbox.com, NeoGaf, N4G, VGChartz, IGN, GameSpot, GameStop, Facebook, Twitter, Amazon, All of Europe, FAMITSU, Japan, the rest of Asia and The whole of the Middle East among countless others are experiencing a Tsunami of people in love with Sony's gamings offerings.
394 posts since 29/08/13
Funny, how People predict, it will only sell 120-150k. Even Pikmin 3 sold round abut 90-100k.

I say at least 350k.
16268 posts since 08/08/07
Around 1.1 million Wii U's in Japan, massive title but Nintendo first parties aren't nearly as frontloaded as for PS and Xbox games. I'd say somewhere around 180-200k with small drops for a couple of weeks. With the lack of other, compelling software, titles like this will shine all the brighter and could get a massive attach rate.


End of 2016 hardware sales:
Wii U: 15 million. PS4: 54 million. One: 30 million. 3DS: 64.8 million. PSVita: 15.2 million.