Nintendo and Activision are teaming up for a new Wii U bundle. The package, which launches on November 15, includes the following:
a white Wii U Basic system
a Skylanders SWAP Force starter pack that includes:
Skylanders SWAP Force Wii U software
a Portal of Power
three Skylanders figures, including Ninja Stealth Elf (one of the Core Skylanders) and two SWAP Force characters: Blast-Zone and an exclusive color shift Washbuckler
a collector poster, trading cards and sticker sheets
a Nintendo Land game disc
Scott Moffitt, Nintendo of America's executive vice president of Sales & Marketing, said of today's announcement:
"There are so many great elements to this Skylanders SWAP Force Wii U bundle that we almost couldn't cram them all into the box. This amazing deal provides a huge amount of entertainment for kids and their families to play together."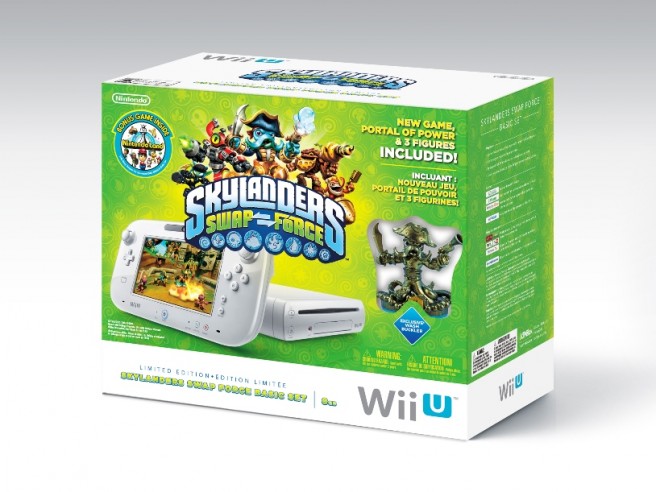 Pricing is set at $299.99 for the new bundle. You can find the official announcement below.
Wii U, Skylanders SWAP Force™ and Nintendo Land Are All Included
REDMOND, Wash.–(BUSINESS WIRE)– A new Wii U™ bundle featuring Activision Publishing Inc.'s Skylanders SWAP Force starter pack delivers an amazing amount of value for people looking for a great video game deal. The bundle launches Nov. 15 at a suggested retail price of $299.99 and includes everything needed to start the new adventure plus an assortment of Skylanders extras that will satisfy current fans and newcomers alike.
"There are so many great elements to this Skylanders SWAP Force Wii U bundle that we almost couldn't cram them all into the box," said Scott Moffitt, Nintendo of America's executive vice president of Sales & Marketing. "This amazing deal provides a huge amount of entertainment for kids and their families to play together."
The bundle comes with:
a white Wii U Basic system
a Skylanders SWAP Force starter pack that includes:
Skylanders SWAP Force Wii U software
a Portal of Power®
three Skylanders figures, including Ninja Stealth Elf (one of the Core Skylanders) and two SWAP Force™ characters: Blast-Zone and an exclusive color shift Washbuckler
a collector poster, trading cards and sticker sheets
a Nintendo Land™ game disc
The third installment of the award-winning toys-to-life Skylanders franchise, Skylanders SWAP Force lets players mix and match the top and bottom halves of up to 16 SWAP Force figures that are available for purchase and transform them into more than 250 unique characters*. Fans also can play Skylanders SWAP Force with their entire collection of 100+ characters from Skylanders Spyro's Adventure® and Skylanders Giants™. The Wii U version of the game stands apart, with touch-screen interfaces on the Wii U GamePad controller and the ability to play the entire game on the GamePad while someone else watches TV. A por