I'm not talking about monitors and its cost, I'm talking abou the kind of GPU power it needs.
Anandtech did a quick test with three games at max settings and several GPUs at 4K resolution: 3840x2160.
The games:
Metro 2033
Dirt 3
Sleeping Dogs
The cards:
AMD
HD 7790 (single)
HD 7950 (single and Tri-Fire)
HD 7990 (single)
Nvidia
GTX 660Ti (single)
GTX 680 (single and 2xSLI)
GTX 690 (single)
GTX Titan (single, 2xSLI, 3xSLI and 4xSLI)
The rest of the setup
Intel Core i7-4770K @ 4.2 GHz, High Performance Mode
Corsair Vengeance Pro 2x8GB DDR3-2800 11-14-14
GIGABYTE Z87X-OC Force (PLX 8747 enabled)
2x GIGABYTE 1200W PSU
Windows 7 64-bit SP1
Drivers: GeForce 320.18 WHQL / Catalyst 13.6 Beta
And finally, the results: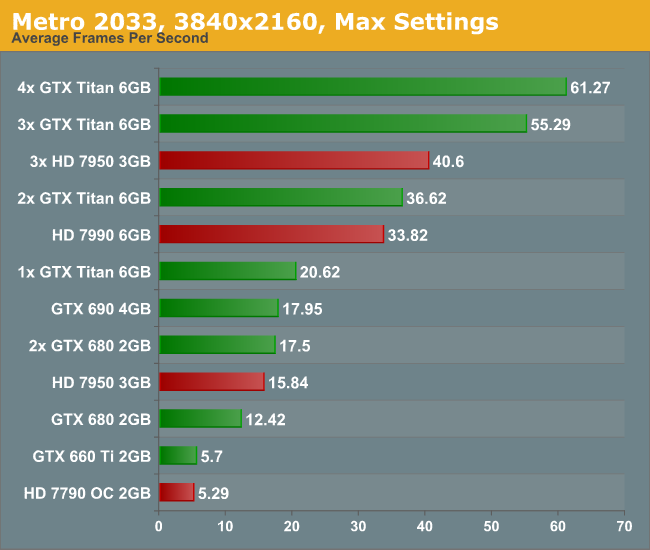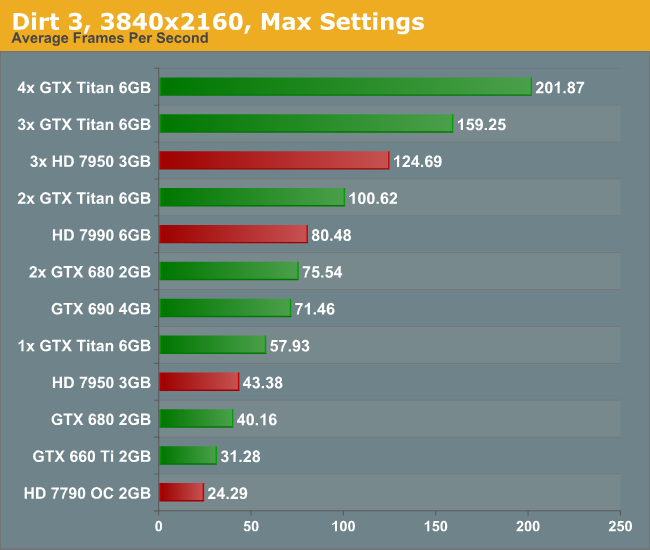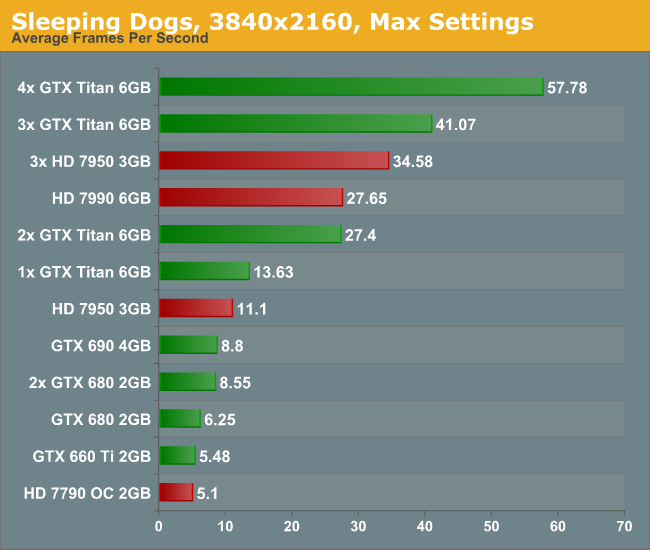 It's not surprising to see behemoths like Metro 2033 and Sleeping Dogs being demanding, but that much? Really? 4 Titans to get an average close to 60 fps, wow. And then add that future games will push it even more thanks to the new consoles being more powerful.
On the other hand, Dirt 3 is almost there so not all hope is lost.
What do you think?
Original article here: http://www.anandtech.com/show/7120/some-quick-gaming-numbers-at-4k-max-settings
Please excuse my bad English.
Currently gaming on a PC with an i5-4670k@stock (for now), 16Gb RAM 1600 MHz and a GTX 1070
Steam / Live / NNID : jonxiquet Add me if you want, but I'm a single player gamer.