Player2 said:
Turkish said:
Mazty said:
Turkish said:

1080p was about getting the price to come down? What are you talking about? You don't make sense. The first 50" 1080p plasma cost around $15,000 back in 2006. Over time they got cheaper, the average tv size has been getting bigger and will continue to get bigger as they gradually become affordable. I hear today many people say they wished they bought a bigger tv afterwards getting a 42-46" set. You're again ill informed about the sizes 4K come in, Sony will release a 55" 4K tv in spring. Here's the average screen sizes from 2002-2009. TVs got bigger and they will continue to get bigger.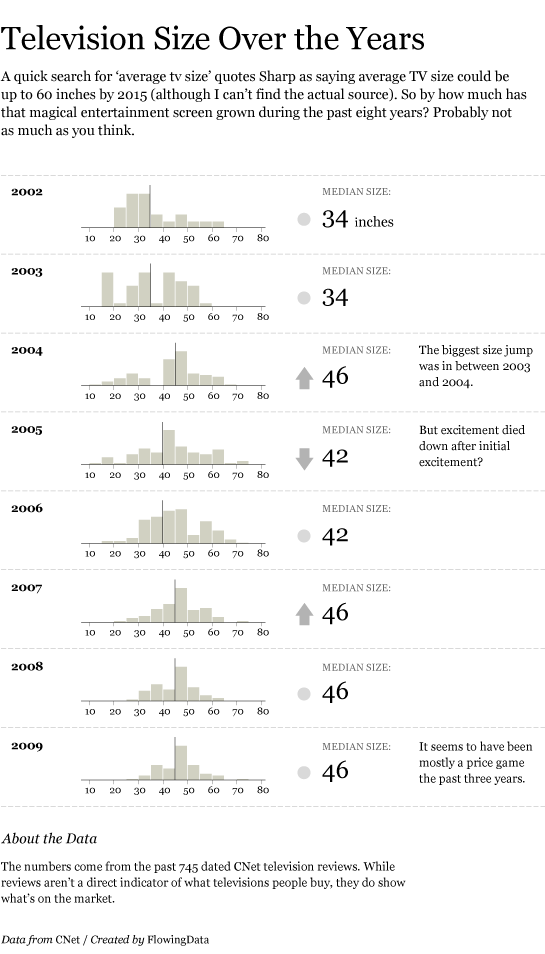 In due time 4K will be affordable, once they're affordable so will there be an increase in content. If there was no substance to the quest for greater resolution, then no one would've cared about Retina displays or 1080p on smartphones. 4K is another part of the pixel density war.

For fucks sake let me repeat myself:


Ultimately, the issue with 4k is not the price, it's the size, and that won't
change over time.
Many people won't, and can't, fit a 60+" TV in their living room.
Understand? You don't seem to understand living room size. In Japan and Europe, rooms are much smaller than in the USA. Your chart shows that it has plateaued at 46", which backs my point up.
You fail to comprehend what I'm saying. There is a relation between the price and size of a tv screen. You are ill informed if you think people can't fit a 60" tv in their living room. Do you have a source to backup your claim? Any study that proves you right? How do you know rooms in Europe are much smaller? Thats just your assumption with no truth. (I live in Europe and I have enough room to fit in a +80" tv.) My chart is also from 2009. You're accepting your assumption as true without proof which again makes no sense.
Fact is that average tv sizes increase. http://www.displaysearchblog.com/2012/10/average-size-of-lcd-tv-panels-increases-by-2-inches-in-12-months/
There are several factors leading to increases in the average LCD TV panel size:
The emergence of new sizes has led many customers to choose larger sizes, such as moving from 26W to 29W, from 37W to 39W, from 46/47 to 50 inch, and from 55 to 60 inch.
As consumers replace older LCD TVs, they tend to choose a larger size. Many consumers in North America originally had a 32 inch LCD TV in their bedroom and a 40-50 inch set in their living room, and are upgrading to a 39 or 40 inch in their bedroom and a 50 inch or larger set for the living room.
LCD TV brands are promoting larger sizes in order to preserve profit margins.
With the year-end, many promotions will be launched, such as the rumored 60 inch LCD TV for $999 on Black Friday. With such attractive prices on large size LCD TVs, we can expect other consumers to migrate to larger sizes, further driving increases in average screen size.
Once 60" TVs become affordable at 999 you bet your bottom $ they'll be what people buy when they're in the market for a new tv with the budget.
Ok, I'll finish this.
"Based on panel makers' shipments reported in the Monthly TFT LCD Shipment Database, the average TV panel diagonal has increased from 34.8" in August, 2011 to 36.8" in August, 2012. With a typical range of 18-20M panel shipment per month, an increase of 2 inches in screen size is significant, and has helped to increase area demand."
"Sharp has the highest average screen size of TV panels shipped, and it grew significantly in the past year, from 39.1 to 48.3 inches. Most other panel makers saw an increase of approximately 2 inches in screen size over the past year. AUO increased from 34.4 to 36 inches, BOE from 29.9 to 32.7 inches, Chimei Innolux from 30.9 to 33.6 inches, LG Display from 36.2 to 38.9 inches, and Samsung from 37 to 39.4 inches."
The current trend is an increase in 2 inches per year.
The average in the industry (not Sharp's) was 36.8" in August 2012. To reach an average of 60" we'll need over 11 years. We'll be playing with the PS5 then.
The source is the same article you used to cherrypick all that.
I'll be good and ignore the trick hidden in the 2002-2009 graph.

Eh I never talked about an average of 60".