Well, usually retailers leaks are not be trusted... but would a best buy intern be so mean as to make up a description of the game in the server? I mean, hell has a special place for that kind of people (one floor above people who don't buy Layton vs Ace Attorney)
-----------------------------
November 27th, 2012 Posted in Posted by Valay, Rumors, Wii U | No Comments »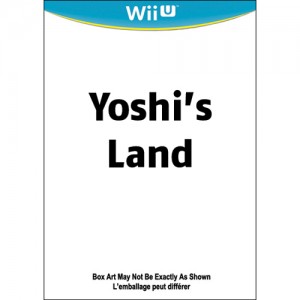 A couple of retailers are listing "Yoshi's Land" for release on Wii U. Entries were located on Future Shop's site, as well as on Best Buy Canada's.
I wouldn't get too worked up about these findings, but for what it's worth, Best Buy included this blurb about the "game":
"Take Yoshi on an epic adventure to remember in Yoshi Land for Nintendo Wii U. Check out Yoshi as you've never seen him before: in glorious high definition. Enjoy dual-screen control thanks to the Wii U Touchscreen GamePad, while you'll also be able to experience full integration with Nintendo's MiiVerse service."
I get the feeling that the person/people responsible for these listings simply took some inspiration from the Miiverse mockup menu leak. But a man can dream!